Cadillac Escalade IQ vs Cadillac Lyriq: What To Choose?
The iconic Cadillac Escalade is gearing up to embrace electric power with the upcoming introduction of the 750-hp Escalade IQ in the summer of 2024. Following GM's launch of other high-end EVs like the Lyriq crossover and the forthcoming Celestiq sedan. This shift toward eco-friendliness marks a departure from the gas-powered Escalade V. Renowned for its potent V-8 engine and low fuel efficiency. The all-electric Escalade IQ aims for a range of 450 miles. Surpassing its platform-sharing counterparts, the GMC Hummer SUV and Silverado EV. In the luxury electric vehicle landscape, the Lyriq takes a distinctive approach by prioritizing a comfortable ride reminiscent of classic Cadillac sedans, in contrast to competitors who emphasize sportiness. Sharing GM's Ultium battery technology with the Hummer EV, the Lyriq boasts a distinctly stylish design, a lavish interior, and an estimated range of 308 miles, all while supporting fast charging for convenient long-distance travel.
| | | |
| --- | --- | --- |
| | Cadillac Escalade IQ | Cadillac Lyriq |
| Dimensions | 224.3 in x 85.3 in x 76.1 in | 196.7 in x 77.8 in x 63.9 in |
| Motor | permanent-magnet synchronous AC | permanent-magnet synchronous AC |
| Horsepower | 750 hp | 500 hp |
| Torque | 785 lb-ft | 450 lb-ft |
| 0-60 MPH | < 5.0 sec | 4.6 sec |
| 0-100 MPH | NA | 10.2 sec |
| Top-Speed | 140 mph | 132 mph |
Specs
Cadillac Escalade IQ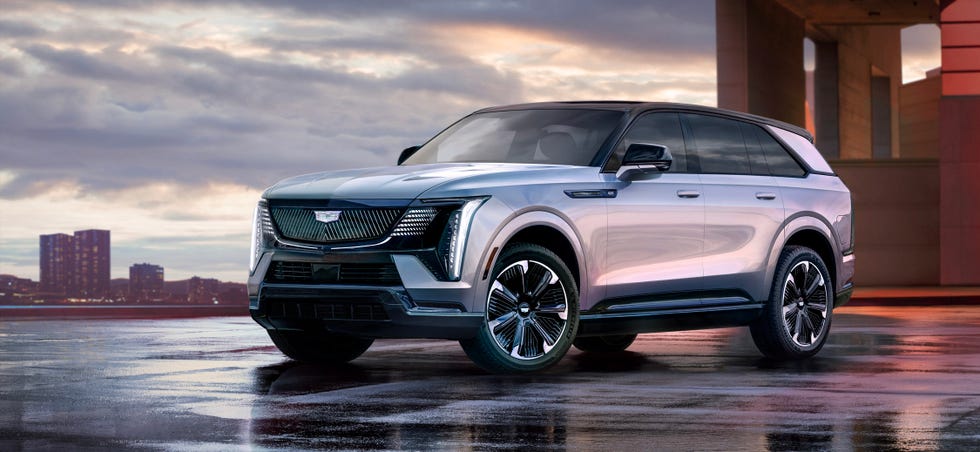 Motor & Performance
The Escalade IQ boasts all-wheel drive and a remarkable power output of up to 750 horsepower and 785 pound-feet of torque. This commanding performance is available in the Velocity Max drive mode. Where peak power is sustained, setting it apart from the brief boost modes seen in other electric vehicles. While Cadillac hasn't unveiled specific details, they affirm that under typical driving conditions. The Escalade IQ is expected to exceed 650 horsepower. While the EPA is yet to certify the driving range for the Cadillac Escalade IQ. GM aims for an impressive 450-mile travel distance on a single charge.
Price & MIleage
While the pricing details are still under wraps, drawing inspiration from the current gas-powered Escalade's starting point of about $83,000. It's reasonable to anticipate that the adoption of advanced electric technology might lead to an Escalade adorned with an array of standard features that nudge its initial cost toward the triple-digit range. Anticipate generous wheel proportions, abundant storage capacity, and a wealth of leather appointments. The IQ model initiates at $99,000. Although the EPA has yet to officially disclose the Escalade IQ's equivalent miles per gallon for gasoline. A rough estimate of 59 MPGe on highways can be inferred from the IQ's substantial 200 kWh usable battery capacity and its maximum projected driving range.
Acceleration & Features
Boasting a rapid 0-60 mph acceleration in less than five seconds, the all-electric Escalade IQ faces off against its rival. The gas-powered 682-hp Escalade V accomplishes this feat in 4.3 seconds. The Escalade IQ's dashboard boasts an expansive 66-inch digital interface, running on a Google-backed operating system. Though it notably excludes Apple CarPlay. This omission is deliberate, aligning with GM's 2023 decision to remove Apple CarPlay from its EV lineup to enhance seamless integration.
Cadillac Lyriq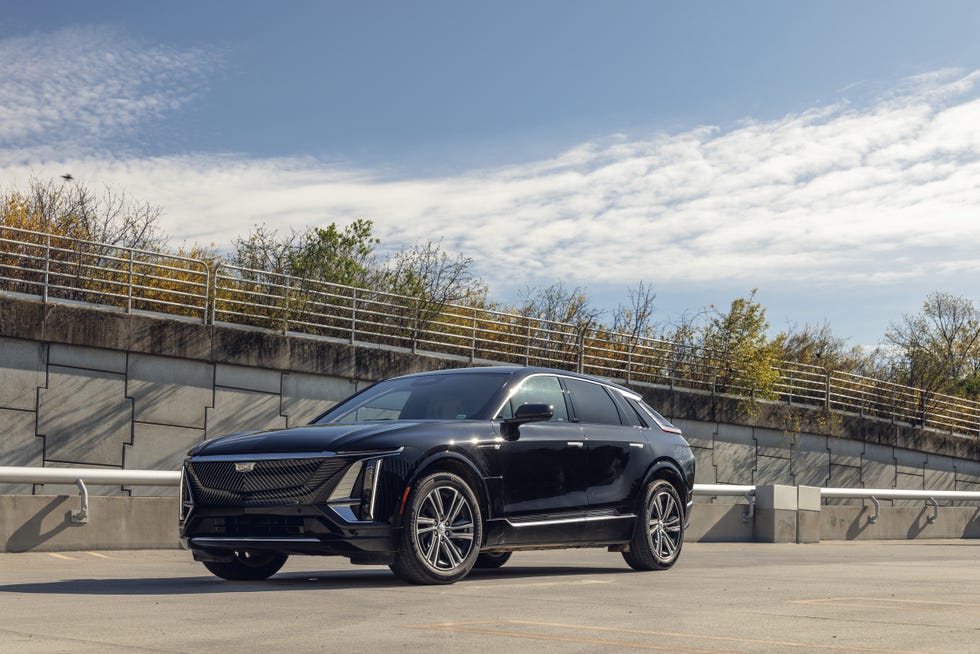 Motor & Performance
The Lyriq debuts in its standard form with rear-wheel-drive, equipped with a 340-hp electric motor positioned on the rear axle. This fundamental setup provides satisfying acceleration and ensures the Lyriq remains impressively responsive. For those desiring enhanced power, an optional all-wheel-drive option is available. Featuring a dual-motor arrangement generating 500 hp, with the second motor driving the front wheels. The Lyriq's battery boasts a substantial capacity of 102.0 kWh. Delivering an estimated driving range of up to 308 miles per charge for the single-motor model and 307 miles for the dual-motor variant.
Price & Mileage
We suggest considering an upgrade to the midrange Luxury trim, which grants access to customizable ambient interior lighting. Elegant wood interior trim, heated front seats and steering wheel, and adaptive cruise control. This option also allows for the inclusion of various appealing features, including Cadillac's advanced Super Cruise hands-free driving system. Additionally, opting for the 500-hp Dual Motor AWD variant, with a commendable 3500-pound towing capacity, could be a wise choice. The Lyriq's pricing starts at $58,590. According to EPA estimates, the rear-wheel-drive Lyriq achieves a commendable 92 MPGe in the city and 82 MPGe on the highway. With a minor decrease of 1 MPGe for the all-wheel drive configuration.
Acceleration & Features
During a test track session, the rear-wheel-drive Lyriq achieved a 0-60 mph time of 5.7 seconds. A respectable performance within the mid-size SUV category but lagging behind its EV competitors. On the flip side, the all-wheel-drive Lyriq reached 60 mph in a swifter 4.6 seconds. The Lyriq's dashboard, akin to the Escalade's, showcases a commanding 33.0-inch curved advanced LED touchscreen that functions as both the SUV's infotainment hub and the driver's gauge display. For those who prefer tactile controls, the infotainment system can also be managed through a click wheel on the center console. Catering to drivers who aren't avid touchscreen users. Standard features encompass Apple CarPlay, Android Auto, and a Wi-Fi hotspot.