2024 BMW i5 vs Polestar 2: Which is Better?
BMW's 2024 i5 sedan marks a shift to electric power for their executive lineup, positioning itself between the i4 and i7 models. With two powertrains. A 335 horsepower rear-drive eDrive40 and a potent 590 horsepower dual-motor M60 xDrive. The i5 promises a blend of driving pleasure and luxury. It competes with other mid-size luxury electric cars like the Genesis Electrified G80, Mercedes-Benz EQE, Porsche Taycan, and Tesla Model S. On a similar electric journey, the Polestar 2 hatchback by Volvo's EV subsidiary combines luxury with sustainability. It offers a range of 320 miles in its base rear-drive model and up to 449 horsepower in the Performance Pack version. The Polestar 2 presents a compelling option with a more traditional cockpit than the Tesla Model 3, featuring Google's Android-backed software.
| | | |
| --- | --- | --- |
| | 2024 BMW i5 | Polestar 2 |
| Dimensions | 199.2 in x 74.8 in x 59.3 in | 181.3 in x 73.2 in x 58.2 in |
| Motor | permanent-magnet AC | permanent-magnet + induction AC |
| Horsepower | 590 hp | 449 hp |
| Torque | 586 lb-ft | 546 lb-ft |
| 0-60 MPH | 3.3–5.0 sec | 3.9–5.5 sec |
| 0-100 MPH | 8.0–12.1 sec | 8.9–17.3 sec |
| Top-Speed | 142 mph | 127 mph |
Specs
2024 BMW i5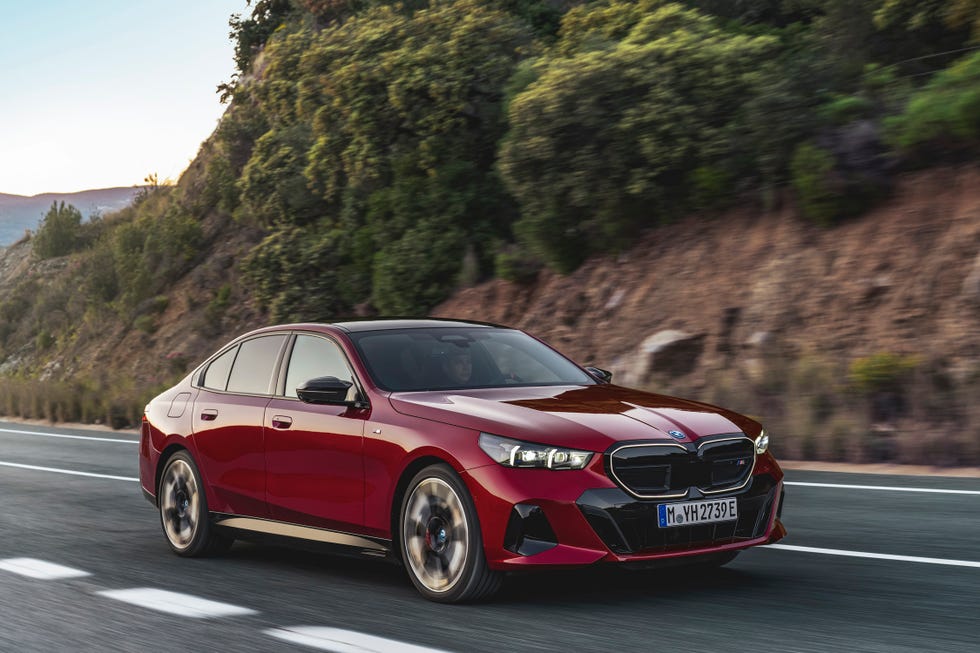 Motor & Performance
Introducing two dynamic i5 models, the first being the eDrive40 boasting 335 horsepower, propelling the rear wheels with a single electric motor. The M60 xDrive, the hotter counterpart, integrates a second electric motor on the front axle, delivering a robust 590 horsepower. Nestled beneath the i5's floorboards is an 84.3-kWh battery pack. The eDrive40 model offers an impressive 295-mile range. While the dual-motor M60, though less efficient, still covers an estimated 256 miles on a single charge. The battery pack seamlessly connects to DC fast-charging stations, promising a 10% to 80% charge in just 30 minutes. Speaking of charging perks, each new BMW i5 includes three years of complimentary 30-minute charging sessions at Electrify America stations. Transitioning into the future, these i5 models redefine electric driving with power, efficiency, and a commitment to hassle-free charging experiences.
Price & Mileage
When it comes to maximizing range, opt for the eDrive40 variant of the i5. Sporting a single electric motor that propels the rear wheels. This choice ensures an extended cruising distance, surpassing the performance-oriented M60 model. However, for enthusiasts seeking an exhilarating drive, a slight compromise in range for enhanced power and superior cornering grip is a worthwhile trade-off. Regarding pricing, the 2024 BMW i5 kicks off at a tempting $67,795, offering an attractive entry into the realm of electric luxury sedans. Meanwhile, the M60, boasting dual motors and heightened performance, commands a higher price, reaching up to $85,095. While the EPA is yet to release official fuel economy ratings for the 2024 i5. The enticing blend of performance and range options makes it a compelling choice in the electric sedan market.
Acceleration & Features
Powering the BMW i5 is a dynamic engine, propelling it from 0 to 60 mph in a swift 3.7 seconds. The dashboard showcases a sweeping 12.3-inch digital gauge display and a commanding 14.9-inch touchscreen for seamless infotainment control. Utilizing the latest BMW iDrive 8.5 interface, the system ensures user-friendly navigation and receives convenient over-the-air updates. Standard features across all models encompass Apple CarPlay, Android Auto, and in-dash navigation. Enjoy premium audio with the Harman/Kardon system, stay charged wirelessly, and stay connected with onboard Wi-Fi. Optional perks include a head-up display, enhancing the overall driving experience. This amalgamation of power, tech, and luxury defines the BMW i5, setting it apart in the electric vehicle landscape.
Polestar 2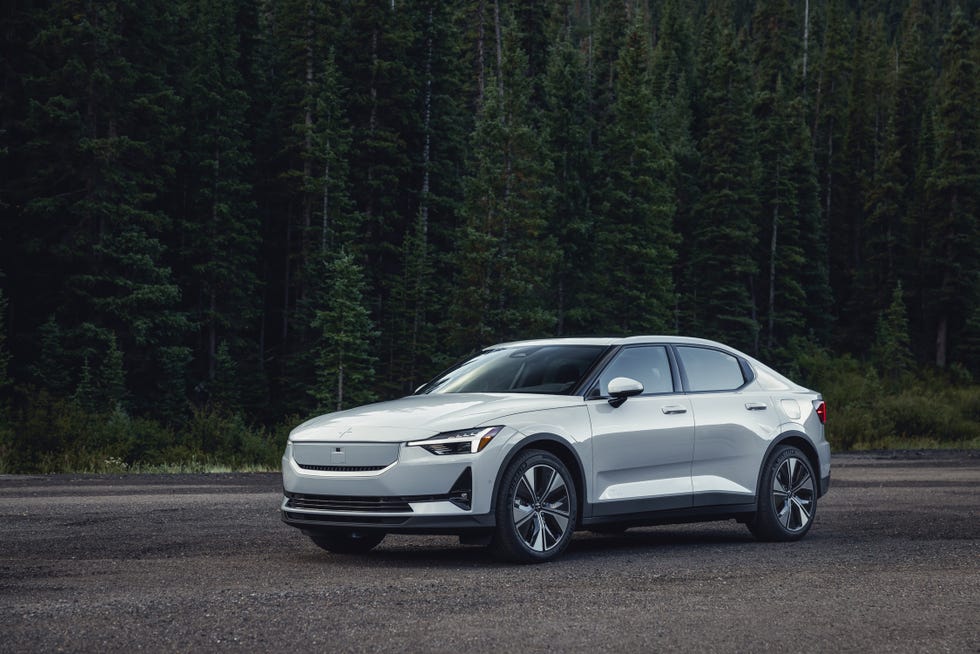 Motor & Performance
In the Polestar 2 lineup, power kicks off with a solo motor delivering 295 horsepower and 361 pound-feet of torque to the rear wheels. For all-wheel-drive models, the motors pair up, cranking out a robust 416 horsepower and 546 pound-feet of torque. Thrill-seekers can opt for the Performance Pack, boasting a peak horsepower of 449 for exhilarating acceleration. Built on the CMA platform, the 2 accommodates a 75.0 kWh lithium-ion battery for all-wheel drive and a larger 79.0 kWh battery for rear-drive single-motor variants. The electrical system supports rapid charging of up to 205 kilowatts for the big battery. Polestar claims the 75.0 kWh battery can recharge from zero to 80 percent in just 40 minutes. Expect an estimated 320 miles of range on 19-inch wheels for the single-motor model, while the dual-motor variant ranges from 276 miles with 19-inch wheels to 247 miles for the Performance model.
Price & Mileage
Rev up your driving experience with the Polestar 2, featuring a rear-drive single-motor setup that not only delivers a zippy 295 horsepower boost but also eliminates the hassle of nightly charging, thanks to its impressive range. Priced at a competitive $51,300, this electric marvel ensures peak efficiency without sacrificing performance. When it comes to EPA-estimated MPGe ratings, the Polestar 2 shines with versatility based on equipment. The single-motor variant achieves an outstanding 115 MPGe combined, breaking down to 124 city and 106 highway. Meanwhile, the Dual Motor, though slightly lower, still impresses with 106 combined, 112 city, and 100 highway MPGe. Experience the perfect blend of power and efficiency in every drive with the Polestar 2.
Acceleration & Features
In accelerating to 60 mph, Polestar boasts a swift 5.9 seconds for the single motor and an impressive 4.1 seconds for the dual-motor setup. The Performance variant elevates the experience with 20-inch wheels, summer tires, stiffer suspension, adjustable Öhlins dampers, and enhanced Brembo front brakes. Within the cockpit, a 12.3-inch digital instrument cluster faces the driver alongside an iPad-esque portrait-oriented touchscreen, measuring 11.2 inches. This central hub, powered by Google's Android Automotive OS, seamlessly manages various functions. The interface, resembling a subdivided box with four squares, dedicates each to navigation, phone, audio, and more. Polestar's commitment to performance and user-friendly design is evident, promising an exhilarating drive with intuitive controls.