2024 BMW XM vs Porsche Cayenne Turbo: Which is Better?
In 2024, the BMW XM SUV aims to conquer the realms of performance and luxury simultaneously. Boasting a potent twin-turbocharged V-8 with a plug-in hybrid system, delivering up to 738 horsepower. Accelerating to 60 mph in just 3.7 seconds, it's a dynamic powerhouse, offering electric-only mode for quick errands. The XM's lavish cabin, laden with top-tier tech like a curved dashboard display and advanced driver-assistance systems, complements its performance. While not as spirited as BMW's M3 and M5 sports sedans on the curves, the XM excels in style and power. Meanwhile, Porsche enhances greatness with the Cayenne Turbo E-Hybrid, now boasting 729 hp. Already a speed demon, this SUV accelerates further with a larger, quicker-charging battery. For 2024, Porsche exclusively offers the AWD Cayenne Turbo as a plug-in hybrid. Though pricier, this Goliath delivers exceptional performance without sacrificing cargo space.
| | | |
| --- | --- | --- |
| | 2024 BMW XM | Porsche Cayenne Turbo |
| Dimensions | 201.2 in x 78.9 in x 69.1 in | 194.1 in x 78.1 in 65.5–66.3 in |
| Engine | 4.4L twin-turbo V8 + AC motor | 4.0L twin-turbocharged V8 + AC motor |
| Horsepower | 644 hp | 729 hp |
| Torque | 590 lb-ft | 701 lb-ft |
| 0-60 MPH | 3.4 sec | 3.0 sec |
| 0-100 MPH | 8.2 sec | 7.5 sec |
| Top-Speed | 168 mph | 183 mph |
Specs
BMW XM
Engine & Performance
In the BMW XM, they've joined forces. A potent twin-turbo 4.4L V8, an electric motor, and a sizable battery, delivering a whopping 644 hp. Forget the technical jargon. Think of it as blending a robust engine with electric support for an extra boost. The XM glides on a coil-spring suspension with smart dampers and anti-roll bars that adapt to the road. While not as silky as air suspension, switch to Comfort mode, and the ride is quite cushy. The XM's 25.7-kWh battery provides around 30 miles of electric range per charge; our test yielded a close 29 miles. BMW notes the XM's charger can fill up the battery at 7.4 kW. Hitting a full charge in just over three hours. So, you get powerful performance and a comfortable ride, all while enjoying an electric boost.
Price & Mileage
Starting at a premium of $159,995, the XM packs in luxury goodies like plush leather seats, massive 23-inch wheels, a sleek curved infotainment display, and a bunch of driver-assistance tech. Despite being a plug-in hybrid, the XM falls short on fuel efficiency. Scoring just 12 mpg in the city and 17 mpg on the highway, according to the EPA.
Acceleration & Features
In a test drive, we experienced an instant power boost from the engine, estimating a 3.8 sec sprint to 60 mph. However, in a different climate, the XM pleasantly surprised us, achieving a 3.4 sec acceleration to 60 mph. The dashboard boasts a sizable curved display covering two-thirds of its space. This multifunctional display acts as both a digital gauge cluster and an onboard infotainment center, running BMW's latest iDrive 8.5 software. Standard features include wireless Apple CarPlay and Android Auto, along with extras like SiriusXM satellite radio, a Wi-Fi hotspot, and a premium stereo system.
Porsche Cayenne Turbo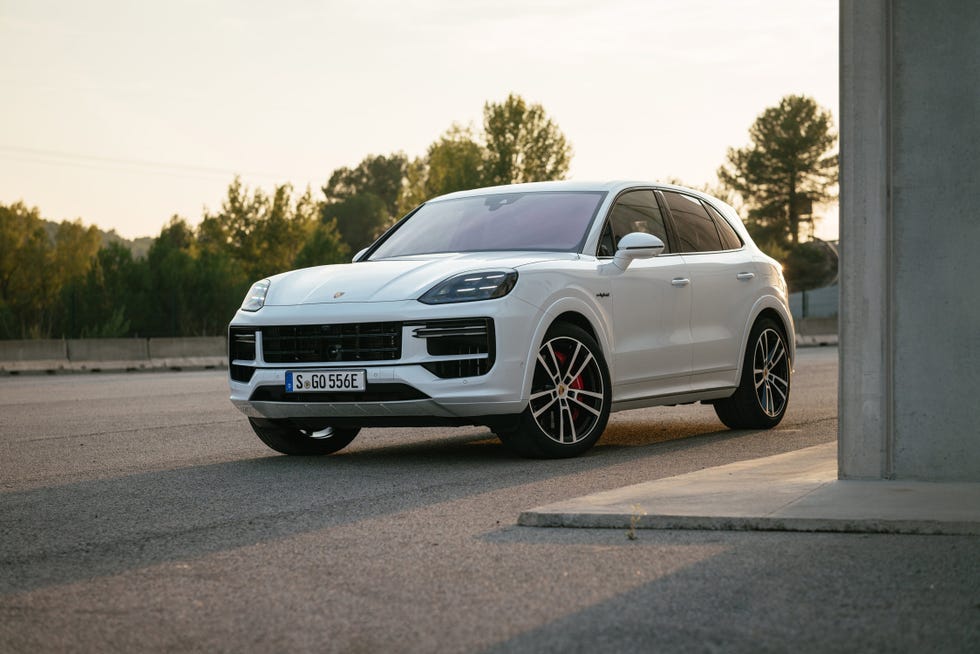 Engine & Performance
The Porsche Cayenne Turbo E-Hybrid is the most potent Cayenne to date. It packs a punch with a twin-turbo 4.0L V8 gas engine, boosted by an electric motor, totaling a robust 729 hp and 700 lb-ft of torque. It seamlessly shifts gears with its standard eight-speed automatic and AWD. Upgrading its electric motor from 134 to 174 hp, the new Cayenne Turbo E-Hybrid boasts a 20.6-kWh battery, a significant bump from its predecessor. Notably, the 11.0 kW onboard charger is a game-changer, replacing the previous 3.6-KW standard unit or the optional 7.2 kW upgrade.
Price & Mileage
In Porsche's latest updates, details on a nonhybrid Cayenne Turbo are noticeably absent. This shift comes as the Turbo E-Hybrid, previously the top-tier choice for 2023, now stands as the sole Turbo-badged option in 2024, starting at $148,550. While the EPA hasn't confirmed fuel efficiency yet, we can make an educated guess. Drawing from the less powerful 2023 Cayenne Turbo S E-Hybrid, we anticipate the new model achieving a minimum of 45 MPGe. Keep in mind, without official EPA data, this is speculative, but it gives us a ballpark idea of what to expect from the most potent Cayenne to date.
Acceleration & Features
Porsche boasts that the new engine in the Cayenne Turbo E-Hybrid can zoom to 60 mph in just 3.5 seconds. If you've ever seen your phone turn into a hot pocket during charging, the Cayenne Turbo E-Hybrid's wireless charger has a tiny air-conditioner to keep your device cool while charging. Every Cayenne comes with Porsche Connect Plus, offering a Wi-Fi hotspot and wireless Apple CarPlay and Android Auto. You can choose from a 14-speaker Bose system or a more expensive 21-speaker Burmester setup, blasting 1455 watts.