2024 Hyundai Elantra N Line VS Honda Civic Type-R: Which is better?
The Elantra N sport compact has received an update after three years, bringing its design in line with the more understated sedan it is based on. Our expectation for this latest version is the reintroduction of both the six-speed manual transmission and the eight-speed dual-clutch automatic. Through the released photos, we can observe the inclusion of two new 19-inch wheel options, refreshed headlamps, and taillights, as well as updated front and rear bumper covers.
In comparison, the 2023 Honda Civic Type R exhibits a toned-down appearance compared to its boldly designed predecessor, but this doesn't diminish its thrill on the road. The front-wheel-drive Type R now features an upgraded six-speed manual transmission capable of handling the increased power. Honda has also enhanced brake cooling to endure track-day demands. Manufactured in Japan and equipped with a powertrain from Ohio, the new CTR promises an exhilarating driving experience both on and off the track.
Hyundai Elantra N Line
Engine & Performance
The Hyundai Elantra N will probably incorporate the turbocharged 2.0-liter four-cylinder engine from the now-discontinued Veloster N hatchback. Previously, this engine delivered 276 horsepower, but it remains uncertain if the 2024 Elantra N will receive any power enhancements to complement its updated appearance. While the previous model offered an optional eight-speed automatic transmission, our preference leaned towards the standard six-speed manual transmission for a more engaging driving experience.
Price & Mileage
The Elantra N is a powerhouse that doesn't hold back on both its attitude and features. It boasts an array of technology and safety enhancements, setting it apart from the standard Elantra models. Buyers will have a limited but appealing selection of paint options to personalize their vehicle. With a starting price of $36,000, the 2024 Hyundai Elantra N offers a compelling package. According to the EPA, models equipped with a manual transmission achieve approximately 22 mpg in the city and 31 mpg on the highway, while automatic transmissions deliver around 20 mpg in the city and 30 mpg on the highway.
Acceleration & Features
During our instrument testing of the 2023 Elantra N, we witnessed impressive acceleration figures, with sprints to 60 mph taking just 5.1 seconds and a quarter-mile run completed in 13.8 seconds at a trap speed of 105 mph. The Elantra N maintains the all-digital dashboard found in the regular Elantra model, featuring a spacious 10.3-inch digital gauge display positioned alongside a slightly angled 10.3-inch infotainment display that prioritizes the driver's perspective. Standard features will probably include Apple CarPlay, Android Auto, in-dash navigation, and a Wi-Fi hotspot, ensuring a well-equipped and connected driving experience.
Honda Civic Type-R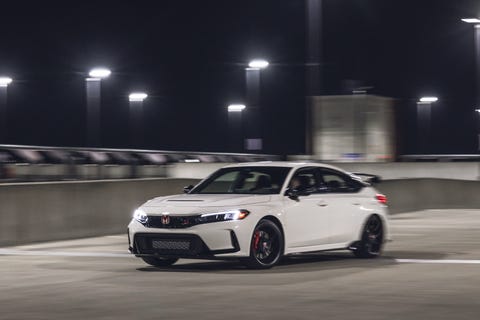 Engine & Performance
The latest iteration of the Civic Type R retains the turbocharged 2.0-liter four-cylinder engine from its predecessor, but notable enhancements have been made to elevate its performance. A redesigned turbocharger, along with a more efficient exhaust system, has resulted in an increased power output of 315 horsepower at 6500 rpm and 310 pound-feet of torque ranging from 2600 to 4000 rpm. The Civic Type R has also seen improvements in key areas, including a larger radiator and enhanced brake cooling. Honda has further heightened the car's auditory experience by raising the rpm at which the active exhaust valve opens, adding to the symphony produced by its four-cylinder engine.
Price & Mileage
The Honda Civic Type R offers a highly competitive starting price that aligns with its impressive performance. With minimal additional options available beyond its initial MSRP, the CTR not only outshines the Volkswagen Golf R in affordability but also comes close to matching the price of the entry-level Toyota Supra. While personal preference will determine the appeal of two seats versus four, the most powerful Civic Type R stands as an accessible sports car with the convenience of five doors. The Honda Civic Type R starts at $44,890. Despite the subtle increase in horsepower, the new Civic Type R manages to maintain its fuel efficiency, as indicated by the EPA. This hot hatch achieves an impressive EPA-estimated 22 mpg in city driving and 28 mpg on the highway, striking a balance between power and economic operation.
Acceleration & Features
During rigorous testing on a track, the CTR showcased its exceptional performance capabilities. It accelerated from 0 to 60 mph in just 4.9 seconds and completed the quarter-mile in an impressive 13.5 seconds, reaching a speed of 106 mph. Notably, it demonstrated remarkable grip by achieving 1.02 g's on the skidpad. Honda's latest infotainment system is seamlessly integrated into the Civic Type R, featuring a user-friendly 9.0-inch touchscreen located on the dashboard. It comes equipped with sought-after features like wireless Apple CarPlay and Android Auto, ensuring convenient connectivity. Additionally, the inclusion of a subscription-based Wi-Fi hotspot and wireless smartphone charging further enhances the overall technology package.
Difference Between 2024 Hyundai Elantra N Line VS Honda Civic Type-R
| | | |
| --- | --- | --- |
| | Hyundai Elantra N | Honda Civic Type-R |
| Dimensions | 184.1 in x 71.9 in x 55.7 in | 180.9 in x 74.4 in x 55.4 in |
| Engine | turbocharged inline-4 | turbocharged inline-4 |
| Horsepower | 286 hp | 315 hp  |
| Torque | 289 lb-ft | 301 lb-ft |
| 0-60 MPH | 4.8–5.3 sec | 4.9 sec |
| 0-100 MPH | 12.2–12.7 sec | 12.1 sec |
| Top-Speed | 155 mph | 169 mph |
| Airbags | 6 Airbags | 8 Airbags |
Specs