2024 Mercedes SL63 AMG vs Audi R8: Which is Better?
The Mercedes-AMG SL63 blends luxury and performance in a striking convertible package, emphasizing performance while retaining luxurious elements. It differs from its previous design by introducing a two-plus-two seating arrangement, though the rear seats serve storage better than passengers. The interior exudes opulence with a central touchscreen and adjustable angle to reduce glare. It delivers a dynamic driving experience powered by a robust V-8 engine. Conversely, the Audi R8 excels as an outstanding daily supercar, providing a comfortable ride and impressive acceleration. It shares its powertrain with the Lamborghini Huracán, yet the R8 focuses on refinement, offering a sleek two-seat cabin with advanced digital gauges, despite limited cargo space.
| | | |
| --- | --- | --- |
| | Mercedes-AMG SL63 | Audi R8 |
| Dimensions | 185.2 in x 75.4 in x 53.5 in | 174.4 in x 76.4 in x 48.7 in |
| Engine | 4.0L twin-turbo V8 | 5.2L DOHC V10 |
| Horsepower | 577 hp | 562 hp |
| Torque | 590 lb-ft | 406 lb-ft |
| 0-60 MPH | 3.0 sec | 3.4–3.5 sec |
| 0-100 MPH | 7.1 sec | 7.5–7.6 sec |
| Top-Speed | 196 mph | 200–204 mph |
Specs
Mercedes-AMG SL63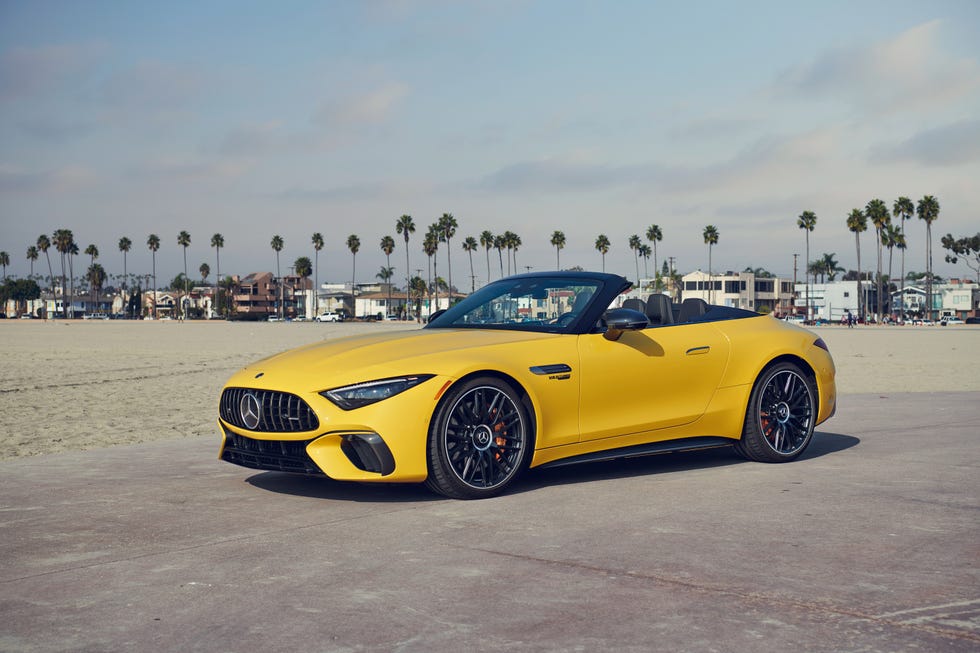 Engine & Performance
Propelled by a twin-turbo 4.0-liter V8 sourced from the GT sports car, the SL63 harnesses a commanding 577 horsepower. Its sole transmission option is a nine-speed automatic, complemented by an AWD system and four-wheel steering. While the vehicle presents multiple customizable drive modes, achieving the ideal balance between agility and comfort can be challenging. This might convey the sense that it lacks a clear-cut emphasis on either end of the spectrum.
Price & Mileage
The SL63 boasts a range of opulent features as standard. These include massaging seats, a head-up display, and a Burmester stereo system. Opting for the pricier SL63 variant grants access to the twin-turbo V-8's full power potential. Buyers can choose between Touring or Performance models, the latter equipped with a front axle lift feature and sleek darkened exterior accents. The price for the SL63 begins at $184,050. Regarding efficiency, the SL61 received an EPA rating of 14 mpg for city driving and 21 mpg for highway cruising.
Acceleration & Features
The acceleration proves rapid, particularly when equipped with the enhanced V8 variant, propelling the SL63 to 60 mph in a mere 3.0 seconds. All SL63 editions feature Mercedes's fresh MBUX infotainment system, accompanied by the "Hey Mercedes" virtual assistant. Moreover, a spacious 11.9-inch touchscreen display, adaptable for optimal driver visibility, and a standard 12.3-inch digital gauge display enhance the technology suite.
Audi R8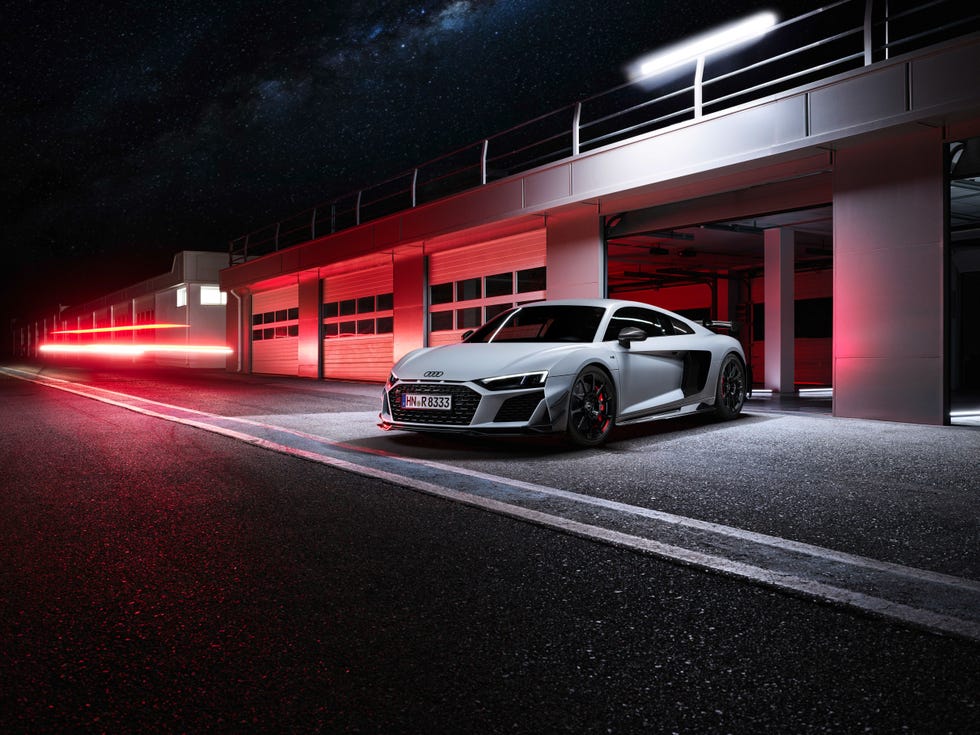 Engine & Performance
The R8 presents a choice between two robust V-10 engine options, delivering exhaust notes that will undoubtedly grab your attention. However, the R8's seven-speed dual-clutch automatic transmission can feel a bit jarring at times, delivering sudden downshifts that result in rapid acceleration followed by swift upshifts. The standard configuration for the base R8 includes an adaptive suspension, while the Performance models sport a more assertive fixed-damper arrangement.
Price & Mileage
For an extra touch of style, opting for the Spyder variant comes highly recommended. With the convertible top down, onlookers will have a clearer view of the fortunate individual steering the wheel. Alternatively, arriving at the next Cars and Coffee gathering in the top-tier R8 could evoke an even greater sense of exhilaration. The R8's base price begins at $161,395, indicating that it's not exactly a budget-friendly choice. The rear-wheel-drive models achieve 14 mpg in urban settings and 23 mpg on highways – not particularly economical. The all-wheel-drive models perform even less efficiently, managing 13 mpg in the city and 18 mpg on the highway.
Acceleration & Features
However, there's a downside to the R8's supple character: when pushed to its limits, it lacks the confident cornering prowess of its competitors, presenting a more unsettled demeanor than what's typically expected from a supercar. The standard steering configuration remains responsive, effectively transmitting road feedback to the driver's hands. The impressive Virtual Cockpit gauge cluster serves a dual purpose, showcasing both essential metrics and the MMI infotainment setup. Its futuristic vibe is consistent with Audi's other models like the A4 and TT. Featuring high-definition navigation as standard, the system can be managed through voice prompts, buttons on the steering wheel, or a central console click wheel.