2024 Mullen GT vs Porsche Taycan: Which is Better?
Beneath a discreet tent in Citi Field Lot E lies the captivating 2025 Mullen GT. An electric sports car boasting a sleek form with a dragonfly emblem on the nose and a 'Mullen' label on the rear. This startup, tracing back to the 2015 Shanghai debut of the Qiantu K50, is set to hit U.S. roads by 2025 or 2026. Unfolding a narrative that started with the Great Wall Huaguan subsidiary. On the other side of the spectrum is the Porsche Taycan, an electric sedan that drives like its gas-powered counterparts. With lightning-quick acceleration (0-60 mph in 2.4 seconds), elegant design, and a range of 246 miles, it challenges the norms of electric vehicles. The Taycan, a whispering powerhouse, epitomizes Porsche's legacy with a silent roar.
| | | |
| --- | --- | --- |
| | Mullen GT | Porsche Taycan |
| Dimensions | NA | 195.4 in x 77.4 in x 54.3 in |
| Motor | permanent magnet sync AC motors | permanent magnet sync AC motors |
| Horsepower | 400 hp | 750 hp |
| Torque | NA | 774 lb-ft |
| 0-60 MPH | 4.2 sec | 2.4 sec |
| 0-100 MPH | NA | 6.0 sec |
| Top-Speed | 125 mph | 162 mph |
Specs
Mullen GT
Motor & Performance
In the dynamic landscape of electric performance, the forefront is claimed by the dual-motor setup, emanating a serene absence of whine. Simultaneously, it seamlessly integrates regenerative capabilities, while the steering assumes a pleasantly weighted character, and body motions confidently assert control. Amidst these dynamics, the impressive performance specs of this electric marvel come to the forefront. A formidable 400 horsepower neatly housed within an aluminum frame adorned with sleek carbon body panels. Its all-wheel-drive prowess, coupled with torque vectoring, guarantees a ride marked by dynamism. Strategically placing the bulk of its cells behind the driver, the robust 78.0-kWh T-shaped lithium-ion battery ensures longevity. With a claimed range of 230 miles, the GT boldly establishes its electric prowess.
Price & Mileage
Set to materialize its vision, Mullen strategically chooses the ex-AM General facility in Indiana for crafting the GT. Sharing space with the Five crossovers and Bollinger B1 and B2. Securing a GT reservation demands just a modest $1,000 deposit, promising delivery in late 2025 or early 2026. With a $150,000 price tag, the Mullen GT boldly enters the arena, navigating the intricacies of the industry. Time holds the key to unveiling its standing in the ever-changing landscape. Notably, the EPA is yet to provide ratings for the GT, adding an element of anticipation to its electric prowess. Stay tuned as Mullen's narrative unfolds in the heart of automotive evolution.
Acceleration & Features
In March, Mullen boldly redefined the GT's performance, dubbing it an "EV supercar" with a promised 0-60 mph in 1.95 seconds and speeds topping 200 mph. This shift followed Mullen's regaining of K50 selling rights, settling a $23 million contract dispute after defaulting post the New York debut. Adjustments came swiftly, revising expectations to a 4.2-second 0-60 mph sprint and a capped top speed of 125 mph. Mullen's engineers meticulously opted for 19-inch center-lock wheels, Brembo brakes, and Pirelli P Zero tires. Despite these changes, the design retained Qiantu's essence, with manufacturer etchings on the glass. The Mullen GT's sleek profile, akin to an Acura NSX, closely echoes mid-engine car dimensions.
Porsche Taycan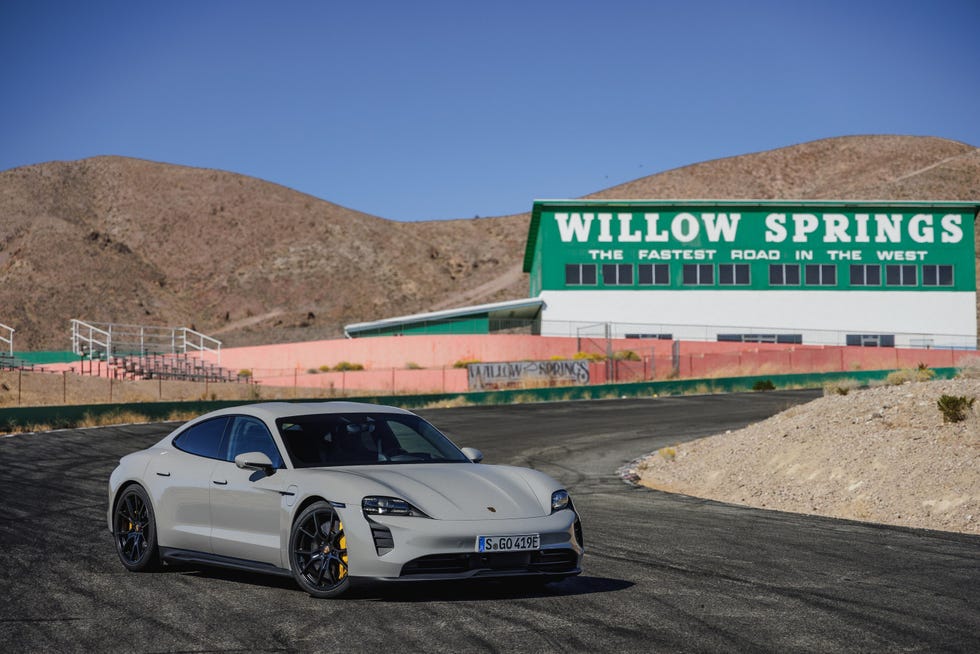 Motor & Performance
Taycan models sport dual electric motors—one for the front wheels and another for the rear—with varying outputs by trim. The 4S, equipped with a smaller or larger battery, generates 522 or 562 horsepower, respectively. The top-tier Turbo and Turbo S boast 670 and 750 horsepower. The base model, exclusively rear-wheel-drive, produces 402 to 469 horsepower based on battery size. A standout is the 590-hp Taycan GTS with 626 pound-feet of torque. While its range falls short of the Tesla Model S, reaching 206 to 246 miles, Taycan's 800-volt architecture enables a rapid 270 kW charging rate. The larger battery, labeled 93.4 kWh (83.7 kWh usable), claims a 23-minute charge from 5 to 80 percent.
Price & Mileage
Unleashing supercar-level performance, both the Taycan Turbo and Turbo S stand as formidable choices. However, for an economical yet dynamic ride, we suggest the Taycan 4S, an all-wheel drive marvel starting at a reasonable $92,550. The Taycan leads in efficiency, boasting up to 83 MPGe combined. In contrast, the Tesla Model S Long Range trails at 120 MPGe. On the open road, the Taycan maintains its efficiency at up to 88 MPGe, while the Tesla registers slightly lower at 115 MPGe. Opting for the Taycan 4S not only ensures a thrilling drive but also represents a prudent choice, bridging performance and affordability seamlessly.
Acceleration & Features
Numerous drivers have experienced the remarkable performance of the Taycan 4S, clocking 60 mph in a mere 3.4 seconds, coupled with agile, point-and-shoot handling. For those craving an adrenaline rush, the Turbo S takes the experience to a whole new level with rocket-ship takeoffs, accelerating to 60 mph in just 2.4 seconds and covering the quarter-mile in a swift 10.5 seconds at 130 mph. Inside the Taycan, a plethora of screens awaits, replacing physical buttons and knobs. The centerpiece is a curved 16.8-inch display for gauges, complemented by two centrally located touchscreens governing the infotainment system. The 10.9-inch top screen, seamlessly integrated into the dash, provides convenient access to crucial functions.