2024 Range Rover Sport SV VS BMW X7: what to choose?
The 2024 Range Rover Sport SV is an elegant and modern SUV that focuses on enhancing its handling, performance, and advanced technology, while maintaining a subtle design. It directly competes with formidable rivals like the Lamborghini Urus, Aston Martin DBX, and BMW X5M, surpassing them in terms of performance. The SV variant showcases the Range Rover Sport lineup's future potential, highlighting the ongoing development of its powerful V8 engine. In the realm of luxury three-row SUVs for affluent families, the BMW X7 stands out as the best choice. Although it may not offer as much cargo space or room in the rear seats as competitors like the Jeep Grand Wagoneer and Mercedes-Benz GLS-class. The X7 excels in driving experience and offers an impressive range of engine options. All models feature all-wheel drive and an adaptive air suspension system that ensures a smooth and comfortable ride.
Range Rover Sport SV
Engine & Performance
The Range Rover Sport prioritizes an exceptional powertrain that leaves no room for compromise. While previous models offered an upgraded six-cylinder hybrid, the latest iteration takes a significant leap forward. Instead of the 5.0-liter supercharged V8, a new and potent V8 engine with twin turbochargers, sourced from BMW, takes the spotlight. This remarkable engine is none other than the 4.4-liter powerhouse featured in BMW's most impressive M vehicles. In the pursuit of maintaining efficiency while delivering outstanding performance, the P530 variant incorporates BMW's mild-hybrid technology, resulting in an impressive output of 523 horsepower. Not to be outdone, the P510 plug-in hybrid has received an exciting transformation, now known as the P550e. With an upgraded electric motor seamlessly integrated into the automatic gearbox, its power has surged from 503 to an exhilarating 542 horsepower.
Price & Mileage
The 2019 Range Rover Sport is available in the United Kingdom with a starting price of £83,620, indicating its premium positioning. As for the pricing details in the United States, we currently do not have the specific information. We are actively working to gather this data and will provide you with the latest pricing information as soon as it becomes available. Regarding the EPA ratings for fuel efficiency, we advise you to stay tuned for updates as the Environmental Protection Agency has not released any official figures at this time.
Acceleration & Features
Indulge in the exhilarating power of the SV, featuring an impressive 626 horsepower and 590 lb-ft of torque, propelling it to a remarkable top speed of 180 mph. Its advanced hydraulics surpass conventional anti-roll bars, delivering an astonishing 2,300Nm of stability during cornering and 4,000Nm under pitch. Equipped with all-season tires, it achieves an impressive lateral acceleration of 1.1g. The SV prioritizes user-friendly controls, state-of-the-art speech recognition software, and a spacious 13.1-inch Pivi Pro infotainment touchscreen. Embracing innovation, the Country Road Assist feature intelligently adjusts speed based on real-time navigation data. Range Rover seamlessly combines power, technology, and performance to offer an unmatched driving experience.
BMW X7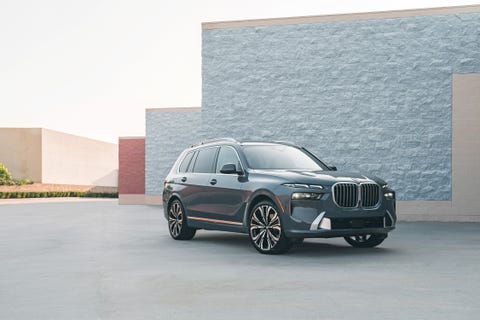 Engine & Performance
The X7 xDrive40i, the base model of the lineup, is equipped with a turbocharged inline-six-cylinder engine that delivers a respectable 375 horsepower. On the other hand, the M60i variant offers a more powerful experience. Boasting a twin-turbo 4.4-liter V-8 engine that produces an impressive 523 horsepower. For those seeking even more performance, the Alpina XB7 comes with a specially tuned version of the V-8, delivering a remarkable 630 horsepower. All three engines are paired with an eight-speed automatic transmission and feature all-wheel drive for optimal control. The X7 is built with an air suspension system that incorporates adaptive dampers, ensuring a comfortable ride. For enhanced handling, rear-axle steering and active anti-roll bars are available options, and the M60i model includes these features as standard, providing a sportier suspension setup.
Price & Mileage
We highly recommend the X7 xDrive40i due to its impressive performance and power from the twin-turbo V-8 engine. Along with its remarkable capabilities, this model offers a range of desirable standard features including four-zone climate control, a panoramic sunroof, power-adjustable front seats with memory settings, heated front seats, and a power tailgate, among others. The BMW X7 has a starting price of $78,845 and can go up to $145,995 for the Alpina XB7. However, for optimal fuel efficiency, we suggest opting for the standard inline-six engine found in the xDrive40i model, which received EPA ratings of 21 mpg city and 25 mpg highway. On the other hand, choosing the V-8-powered M60i model will result in more frequent trips to the gas station, as it is rated at 16 mpg city and 21 mpg highway.
Acceleration & Features
During a test track session, the sleek-looking M60i model demonstrated its impressive acceleration, reaching 60 mph in a mere 3.8 seconds. However, the xDrive40i wasn't far behind, achieving the same speed in just 4.6 seconds. The X7 offers a range of wheel sizes, with the smallest measuring 21 inches in diameter. BMW now introduces 23-inch wheels for the first time, but it's worth noting that opting for the larger wheels can affect the X7's ride comfort. The X7's iDrive 8 infotainment system is already set to receive an update to iDrive 8.5, scheduled for release in the summer of 2023. Operating through a 14.9-inch touchscreen positioned in the curved glass panel atop the dashboard, the system provides a user-friendly interface.
Difference Between 2024 Range Rover Sport SV VS BMW X7
| | | |
| --- | --- | --- |
| | Range Rover Sport SV | BMW X7 |
| Dimensions | NA | 203.6 in x 78.7 in x 72.2 in |
| Engine | twin-turbocharged V8 | twin-turbocharged V8 |
| Horsepower | 626 hp | 523 hp |
| Torque | 590 lb-ft | 553 lb-ft |
| 0-60 MPH | 3.6 sec | 3.8 sec |
| 0-100 MPH | NA | 9.8 sec |
| Top-Speed | 180 mph | 129 mph |
| Airbags | 6 Airbags | 9 Airbags |
Specs