2024 Toyota Land Cruiser vs BMW X5: What To Choose?
Surprise! The Land Cruiser is back, sharing a platform with the Lexus GX, with a boxy design. This time, it's a size medium SUV, targeting the Ford Bronco and Jeep Wrangler, while leaving the full-size SUV market for the Toyota Sequoia. Inside, it seats five and has modern infotainment technology and advanced driver-assistance features. Expected at dealerships in spring 2024, it serves as a weekend toy and weekday commuter for many owners. The BMW X5, while not as fun as the Porsche Cayenne or as smooth as the Genesis GV80, strikes a balance between both. BMW offers three powertrains: a smooth inline-six, an authoritative twin-turbo V-8, and an eco-friendly plug-in hybrid. The cabin boasts premium materials and cleverly integrated technology, like the attractive curved digital display. Despite some minor flaws, the X5 impresses with its luxury and remains a top choice among mid-size crossovers.
| | | |
| --- | --- | --- |
| | 2024 Toyota Land Cruiser | BMW X5 |
| Dimensions | 193.7 in x 78.0 in x 73.2 in | 194.3 in x 78.9 in x 69.5 in |
| Engine | Hybrid turbocharged 2.4L 4-pot | 4.4 L twin-turbo V8 |
| Horsepower | 381 hp | 523 hp |
| Torque | 401 lb-ft | 553 lb-ft |
| 0-60 MPH | NA | 4.1 sec |
| 0-100 MPH | NA | 13.5 sec |
| Top-Speed | NA | 155 mph |
Specs
Toyota Land Cruiser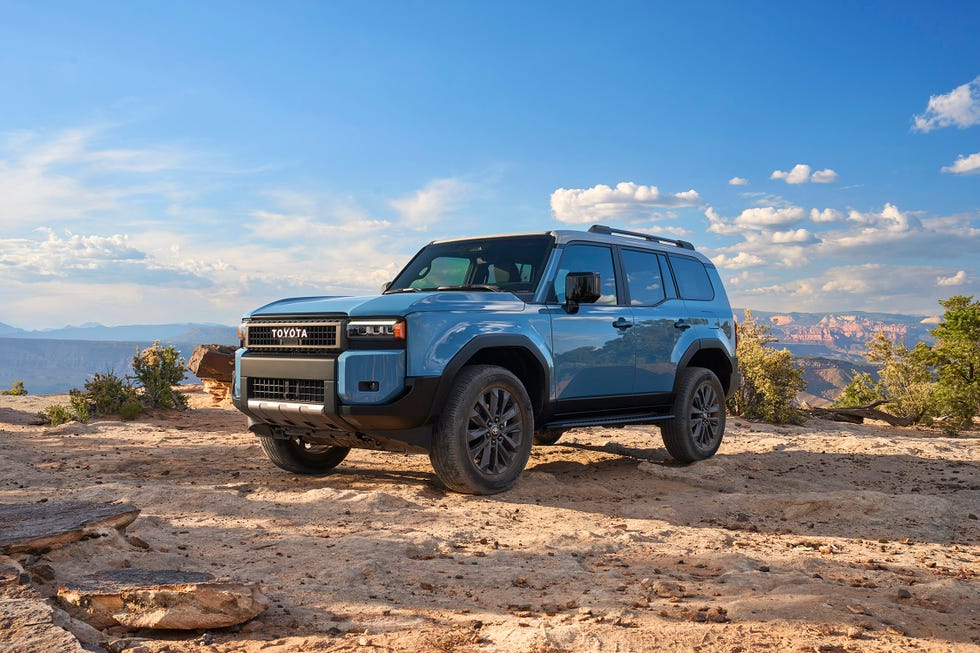 Engine & Performance
The 2024 Land Cruisers are in for an impressive upgrade that brings cutting-edge technology to all models. Get ready to experience the innovative 2.4-liter turbocharged four-cylinder hybrid iForce Max powertrain paired with an eight-speed transmission. This remarkable technology, already proven successful in the top-tier Tacoma TRD Pro, ensures a thrilling driving experience. Despite having slightly lower horsepower at 326 combined, the new powertrain shines with a robust combined torque of 465 pound-feet, surpassing the previous 5.7-liter V-8's 401 pound-feet. Off-road conditions are where it truly excels, boasting peak torque at just 1700 rpm, a remarkable improvement over the previous 3600 rpm. Prepare to embrace enhanced capabilities, especially when venturing off the beaten path – a remarkable advantage offered by the iForce Max powertrain.
Price & Mileage
In a delightful turn of events, Toyota has pleasantly surprised us with a much more attractive starting price in the mid-$50,000 range for the Land Cruiser's latest appearance in the U.S. market. Gone are the days of the hefty $87,030 price tag. The smaller frame and cozy five-seat cabin enhance its appeal, making it even more charming. Although fuel economy estimates are yet to be released, we hold an optimistic outlook, expecting significant improvements compared to the disappointing 14 mpg combined of the 2021 model. With the introduction of the reformulated hybrid Cruiser, it is likely to outperform the larger LX600, which only managed 19 mpg combined. This exciting change breathes new life into the Land Cruiser, making it a more budget-friendly and eco-conscious choice for potential buyers.
Acceleration & Features
The Land Cruiser now comes with an integrated tow hitch as a standard feature, offering a respectable towing capacity of 6000 pounds, albeit reduced compared to its predecessor. The current version accommodates up to five passengers only due to the hybrid system's battery taking up space that could have been used for a third row, resulting in a slightly higher load floor. On the bright side, all Land Cruisers come equipped with Toyota's excellent infotainment system, providing wireless Apple CarPlay and Android Auto. While the base 1958 trim features a modest 8.0-inch display, the other trims boast a much larger 12.3-inch touchscreen, enhancing the overall experience.
BMW X5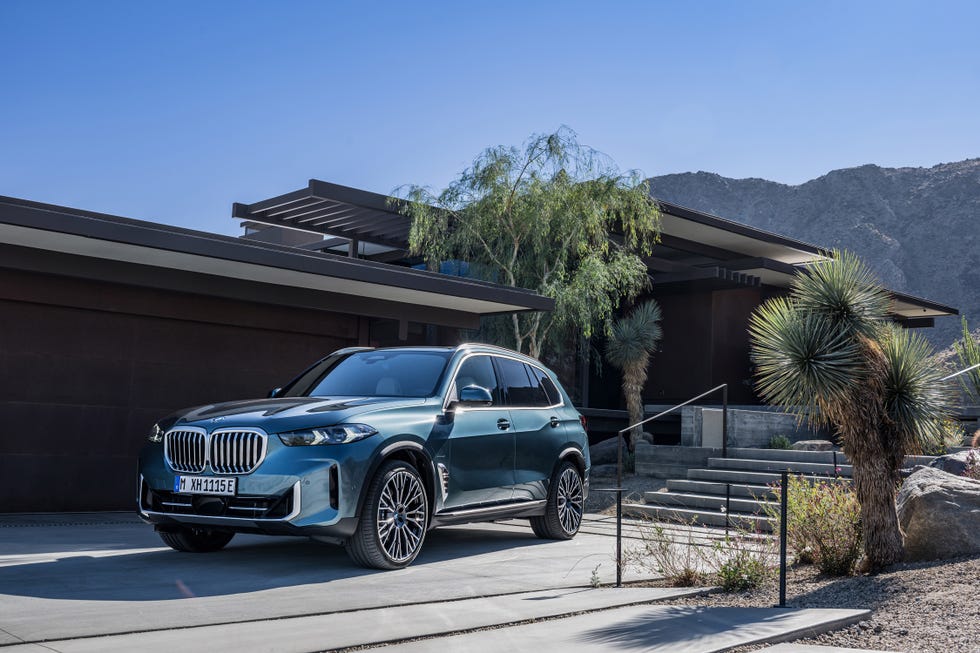 Engine & Performance
The X5 offers a range of impressive powertrains, tailored to different models. The sDrive40i and xDrive40i versions boast a robust 375-hp turbocharged inline-six engine. For those seeking a greener option, the plug-in hybrid xDrive50e combines a turbocharged inline-six with an electric motor, delivering a total of 483 horsepower. And for the thrill-seekers, there's the option of a 4.4L 532-hp twin-turbo V8. Regardless of your choice, all three powertrains come with an eight-speed automatic transmission, ensuring ample power in any driving situation. The refined ride and steady handling are distinctive features of this generation of BMW SUVs, making every drive a pleasure. Additionally, the steering offers a strong connection and responsiveness, adding to the overall driving experience.
Price & Mileage
We highly appreciate both excellent performance and smart savings, making the xDrive40i our top pick among the X5 models. With its sports-sedan-like acceleration and all-wheel drive, it offers great value in this upscale class, starting at just $66,195. While the EPA hasn't provided fuel economy estimates for the plug-in hybrid xDrive50e, both the rear-wheel drive sDrive40i and all-wheel drive xDrive40i boast a fuel efficiency of 23 mpg city and 27 mpg highway. As for the powerful V-8 M60i model, it maintains respectable mileage at 17 mpg city and 22 mpg highway.
Acceleration & Features
The xDrive40i boasts 335 horsepower, resulting in an impressive 4.8-second sprint to 60 mph, and we can only anticipate even more vigor from its more potent counterpart. The M60i, equipped with a robust 523-hp twin-turbo V-8, accelerates to 60 mph in a mere 3.9 seconds. Stepping inside the X5's cabin, you'll be greeted by a striking curved array of display screens spanning two-thirds of the dashboard. Among them, a 12.3-inch screen serves as a gauge display, while a larger 14.9-inch touchscreen provides seamless access to BMW's iDrive infotainment interface.