2024 Toyota Land Cruiser vs Ford Bronco: Which is Better?
Toyota's legendary Land Cruiser makes a surprising comeback, sharing a platform with the Lexus GX and sporting a boxy design. Resized to compete with the Ford Bronco and Jeep Wrangler in the mainstream off-roader market, the Land Cruiser now leaves room for the Toyota Sequoia in the full-size SUV segment. Targeting both weekend adventurers and weekday commuters, the new Land Cruiser is set to hit dealerships in spring 2024. On the other hand, the Ford Bronco is a top contender, rivaling the excitement of the Jeep Wrangler. It boasts four-wheel drive, removable doors, and mirrors that stay intact. While both SUVs handle off-road terrain well, the Bronco impresses with lower road noise during highway travel. The Bronco's extensive customization options cater to various needs, including manual transmission enthusiasts.
| | | |
| --- | --- | --- |
| | 2024 Toyota Land Cruiser | Ford Bronco |
| Dimensions | 193.7 in x 78.0 in x 73.2 in | 189.5 in x 79.3 in x 75.3 in |
| Engine | Hybrid turbocharged 2.4L 4-pot | 2.7L twin-turbo V6 |
| Horsepower | 381 hp | 330 hp |
| Torque | 401 lb-ft | 415 lb-ft |
| 0-60 MPH | NA | 6.2 sec |
| 0-100 MPH | NA | 19.1 sec |
| Top-Speed | NA | 100 mph |
Specs
Toyota Land Cruiser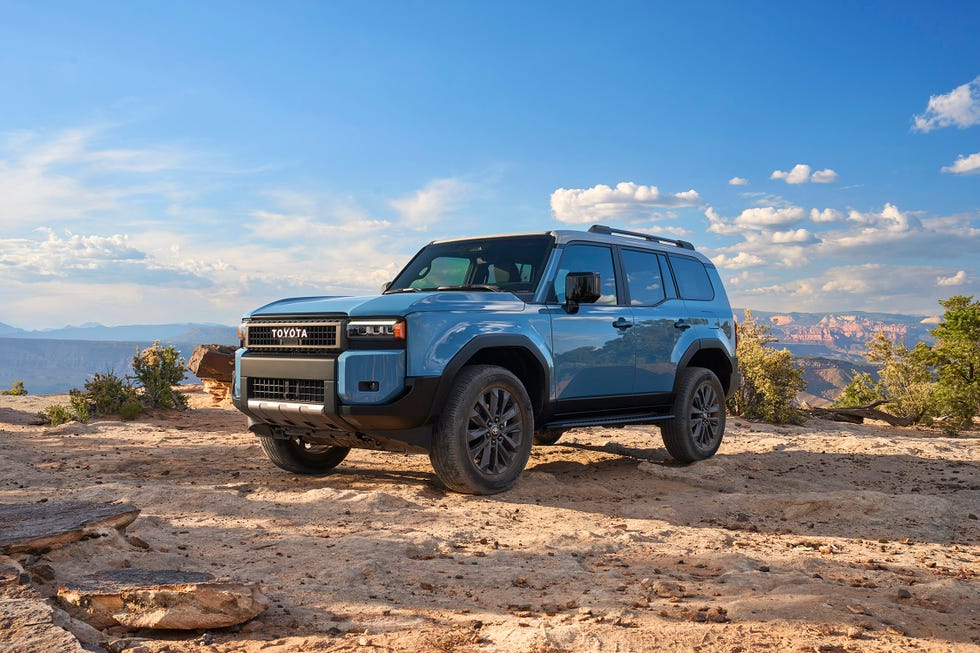 Engine & Performance
Exciting news awaits the 2024 Land Cruisers as they receive a cutting-edge upgrade. All models will now feature the innovative 2.4-liter turbocharged four-cylinder hybrid iForce Max powertrain and eight-speed transmission. This state-of-the-art technology has already proven its success in the top-tier Tacoma TRD Pro. While the new powertrain may have slightly lower horsepower at 326 combined. It outshines the previous 5.7-liter V-8 with a robust combined torque of 465 pound-feet compared to the old model's 401 pound-feet. Especially in off-road conditions. What's truly remarkable is the iForce's peak torque, which occurs at just 1700 rpm. Offering improved capabilities where it truly matters off the beaten path— a notable advantage over the previous 3600 rpm.
Price & Mileage
In its previous appearance in the U.S. market, the Land Cruiser came with a hefty price tag of $87,030, but this time. Toyota pleasantly surprised us with a much more appealing starting price in the mid-$50,000 range. The smaller frame and five-seat cabin add to its charm. While Toyota has yet to release fuel economy estimates. We are optimistic about significant improvements compared to the disappointing 14 mpg combined of the 2021 model. With the introduction of the reformulated hybrid Cruiser, it is likely to outperform the larger LX600, which only managed 19 mpg combined. This exciting change breathes new life into the Land Cruiser. Making it a more budget-friendly and eco-conscious choice for potential buyers.
Acceleration & Features
The Land Cruiser comes with an integrated tow hitch as a standard feature. However, this smaller and less powerful version has a reduced tow rating of 6000 pounds compared to the previous model's 8100 pounds. Nevertheless, it's still a respectable figure. The engine choice means that the Land Cruiser can only accommodate up to five passengers. As the hybrid system's battery takes up the space that could have been used for a third row. Consequently, the load floor is higher than ideal. On a positive note, all Land Cruisers come equipped with Toyota's excellent infotainment system, offering wireless Apple CarPlay and Android Auto. It's important to mention that the base 1958 trim has a relatively modest 8.0-inch display. While the other trims boast a much larger 12.3-inch touchscreen.
Ford Bronco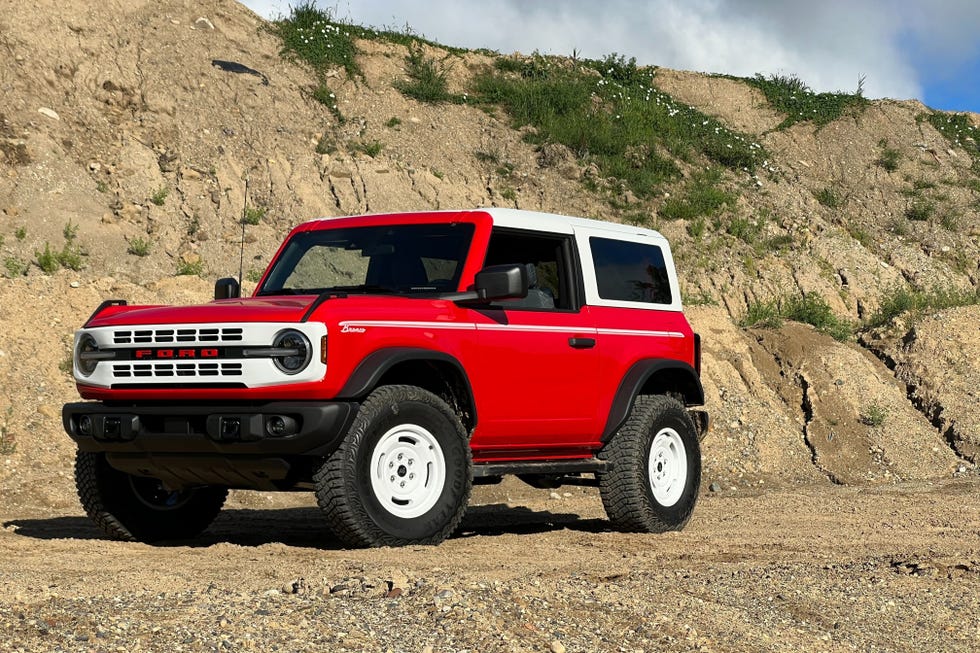 Engine & Performance
Exciting news! The Bronco offers a choice of two powerful engines: a standard 300-hp turbocharged 2.3-liter four-cylinder or an optional 330-hp twin-turbo 2.7-liter V-6. Both are paired with a 10-speed automatic transmission, except for the smaller engine, which can be coupled with a thrilling seven-speed manual. While the engines may not produce a heart-pounding soundtrack, they deliver impressive performance. Plus, every Bronco comes equipped with four-wheel drive, and its independent front suspension surpasses the Jeep's front stick axle in sophistication. You'll also find a range of remarkable options to enhance your off-road experience, including 35-inch mud-terrain tires, beadlock-capable wheels, electronic locking front and rear differentials, and a convenient sway-bar-disconnect feature.
Price & Mileage
The base two-door Bronco comes with a price tag of approximately $33,000, but moving up to higher trims can significantly increase the cost. We have our eyes on a four-door model with a more potent engine, and it must be equipped with the necessary off-road features to stay true to its heritage. The starting price for this configuration is $36,785. If you prioritize fuel efficiency, the four-cylinder Bronco with automatic transmission is the most economical choice, offering 20 mpg in the city and 22 mpg on the highway. However, opting for the V-6 version with the Sasquatch package, which includes robust, oversized tires, leads to a decrease in fuel economy, getting 17 mpg both in the city and on the highway.
Acceleration & Features
The Bronco pleasantly surprised us with its refined on-road performance. Its steering outshines the Wrangler's, offering precision and overall improved handling. Although equipped with large tires and a soft suspension, there might be noticeable brake dive due to its body-on-frame construction. However, the Bronco is far from a one-trick pony; it proves its prowess in conquering treacherous terrains with ease. Ford's cutting-edge in-dash Sync 4 software powers the user-friendly 8.0- or 12.0-inch touchscreen, cleverly integrated into the dashboard. This setup enables convenient over-the-air updates and seamless wireless connectivity to the cloud and smartphones. Ford has truly delivered a versatile and capable vehicle with the Bronco, setting it apart in the market.