Cadillac Escalade IQ vs Polestar Polestar 3: What To Choose?
The iconic Cadillac Escalade is getting an all-electric makeover with the upcoming 750-hp Escalade IQ, set to launch in the summer of 2024. This shift towards electric follows GM's introduction of the luxurious Lyriq compact crossover and the upcoming Celestiq sedan. The new Escalade IQ aims to travel 450 miles on a single charge, outdoing its platform mates, the GMC Hummer SUV and Silverado EV. On the other hand, the Polestar 3, a sleek electrified SUV by Volvo's spinoff brand, boasts an elegant design, roomy cabin, and strong power. Its base model offers a 489-hp dual-motor, all-wheel drive powertrain, while the Performance trim boosts it to 517 horsepower with enhanced features. The SUV offers a driving range of 300 miles (standard) and 270 miles (Performance) and comes equipped with active safety features, with future plans for self-driving capabilities and another SUV model, the Polestar 4.
| | | |
| --- | --- | --- |
| | Cadillac Escalade IQ | Polestar 3 |
| Dimensions | 224.3 in x 85.3 in x 76.1 in | 192.9 in x 83.5 in x 64.1 in |
| Motor | permanent-magnet AC | permanent-magnet AC |
| Horsepower | 750 hp | 517 hp |
| Torque | 785 lb-ft | 671 lb-ft |
| 0-60 MPH | < 5.0 sec | 4.6 sec |
| 0-100 MPH | NA | NA |
| Top-Speed | 140 mph | 130 mph |
Specs
Cadillac Escalade IQ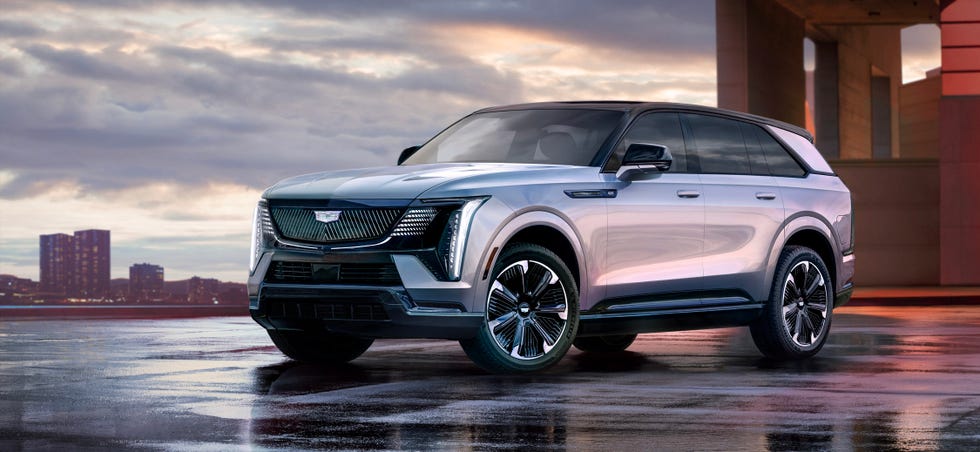 Motor & Performance
Boasting all-wheel drive and an impressive power output of 750 horsepower and 785 pound-feet of torque. The Escalade IQ unquestionably takes the lead. This commanding performance comes to life, especially in the Velocity Max drive mode, where sustained peak power shines. This sets it apart from the momentary boost modes commonly found in other electric vehicles. While specific details from Cadillac remain undisclosed. The Escalade IQ is projected to outperform 650 horsepower under typical driving conditions. While the EPA's certification of the driving range is pending. GM has set an ambitious target of 450 miles on a single charge. Underscoring their unwavering commitment to pushing the boundaries of electric vehicle capabilities.
Price & MIleage
While the specific pricing details are yet to be revealed, drawing inspiration from the current gas-powered Escalade's starting price of around $83,000. It's reasonable to predict that integrating advanced electric technology might lead to an Escalade furnished with an array of standard features. Nudging its initial cost into triple digits. Imagine generous wheel dimensions, expansive storage, and a plethora of leather appointments. Kicking off at $99,000, the IQ variant establishes the baseline. Though the EPA hasn't formally unveiled the Escalade IQ's gasoline-equivalent miles per gallon. A rough estimate of approximately 59 MPGe on highways can be inferred from the IQ's substantial 200 kWh usable battery capacity and its projected maximum driving range.
Acceleration & Features
Boasting an impressive sub-five-second 0 to 60 mph acceleration. The all-electric Escalade IQ stands in direct competition with its gas-powered counterpart. The 682-hp Escalade V, achieves identical speed in a mere 4.3 seconds. Noteworthy is the Escalade IQ's inclusion of a spacious 66-inch digital dashboard display, powered by a Google-endorsed system. However, it notably omits Apple CarPlay. Aligning with GM's 2023 vision of enhancing seamless integration by removing Apple CarPlay from its EV lineup.
Polestar 3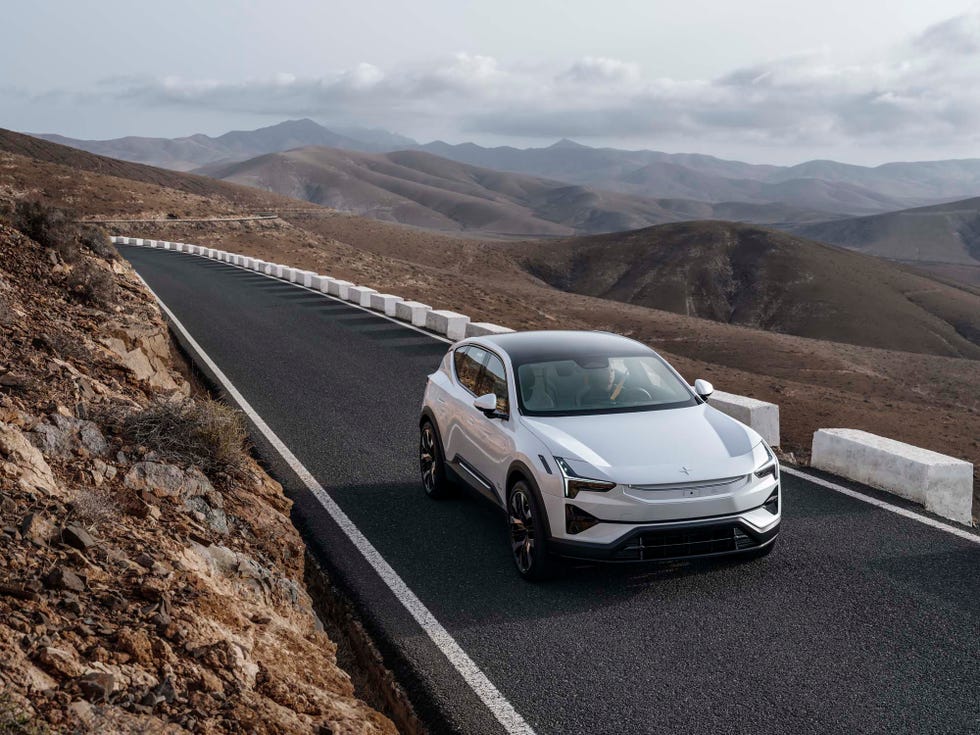 Motor & Performance
The Polestar 3 comes with a standard dual-motor powertrain, available in two variants. The base configuration delivers 489 horsepower, while the Performance trim ramps it up to 517 horsepower. Despite featuring standard all-wheel drive, Polestar has emphasized a rear-biased power distribution. Every 3 model incorporates an adaptive suspension system with active dampers, and the Performance package enhances this with a sport-tuned suspension. Across the board, a uniform 107-kWh battery pack is included. Capable of fast charging up to 250 kW through a DC connection.
Price & Mileage
While the Performance variant may pique interest, our preference leans towards the Dual Motor standard model boasting 489 horsepower. The configuration promises satisfying performance. Notably, this model offers a lengthier range compared to its Performance counterpart and debuts with an ample array of features in its inaugural year. Encompassing both the Pilot and Plus packages. The Polestar 3's base price begins at $85,000. While the EPA has yet to unveil fuel efficiency ratings for the Polestar 3. It's anticipated that the sedan might exhibit slightly lower efficiency compared to the Polestar 2.
Acceleration & Features
Equipped with more powerful electric motors, the Polestar 3 achieves a swift 0-60 mph acceleration in just 4.6 seconds. The standard configuration includes a generous 14.5-inch infotainment screen that operates on Polestar's newest Google-centered interface, complemented by a secondary 9.0-inch display for the gauge cluster. While Apple CarPlay and Android Auto are anticipated to be included as standard offerings, all models will feature in-dash navigation, Bluetooth linkages, and four conveniently placed USB-C charging ports.