2024 Aston Martin DB12 VS Lamborghini Aventador: Which is the Best?
The 2024 Aston Martin DB12 is a stunning car with a low-slung body and a powerful twin-turbocharged 4.0-liter V-8 engine. Its interior combines premium materials and modern technology for an impressive experience. Aston Martin has introduced the DB12 coupe, and a convertible Volante variant is expected to join soon. On the other hand, the Lamborghini Aventador is a hypercar with a powerful 769-hp V-12 engine and a striking exterior. While competitors like the Ferrari SF90 focus on electrification, the Aventador's 12-cylinder engine consumes fuel rapidly. Its unique design features scissor doors, wide proportions, and vented bodywork, resembling a perpetual Fast and Furious movie scene. The cabin is highly customizable but lacks storage space. Behind the wheel, the driver can unleash the Aventador's powerful sound and experience its surprising agility.
Aston Martin DB12
Engine & Performance
As we welcome the latest DB model, it also marks the departure of the previous 5.2-liter twin-turbocharged V12, at least until a potential AMR performance variant is introduced by Aston. The currently available engine option is a twin-turbo V-8 with the same 4.0-liter displacement as before, but Aston has made significant improvements in power output. This includes enlarging the turbos, adjusting compression ratios, and enhancing the cooling system. The enhanced V-8 now delivers an impressive peak power of 671 hp at 6000 rpm, along with a peak torque of 590 pound-feet between 2750 and 6000 rpm. These numbers not only surpass the previous V-8's 528 horsepower and 513 pound-feet of torque but also exceed the previous V-12's figures of 630 horsepower and 516 pound-feet of torque.
Pricing & Mileage
The upcoming 2024 Aston Martin DB12 is scheduled for release in the United States during the third quarter of this year. While exact pricing information has not been revealed, it is anticipated that the coupe model will have a starting price of $245,000, representing a price increase of approximately $37,000 compared to the V-8 coupe. Furthermore, it is expected that the convertible variant, known as the DB12 Volante, will be unveiled with an estimated starting price of around $260,000. At present, the EPA has not provided any fuel efficiency ratings for the DB12, but we will promptly update this information as soon as it becomes available.
Acceleration & Features
The Aston Martin DB12 impresses with a maximum speed of 202 mph and an acceleration from 0 to 60 mph in just 3.5 seconds. Its suspension system is equipped with adjustable dampers, stiffer anti-roll bars, and 21-inch wheels featuring high-performance Michelin Pilot Sport S 5 tires. To ensure quick traction control, the car incorporates an electronic rear differential. Inside the vehicle, the design focuses on the driver, featuring a spacious center console and luxurious Alcantara leather upholstery. Aston Martin has developed a brand-new infotainment system for the DB12, offering internet-connected navigation, 3D mapping, seamless integration with mobile apps, and over-the-air updates. The system supports wireless connectivity for Apple CarPlay and Android Auto. Notably, Aston Martin's updated technology replaces most of the Mercedes switchgear, showcasing the brand's advancements.
Lamborghini Aventador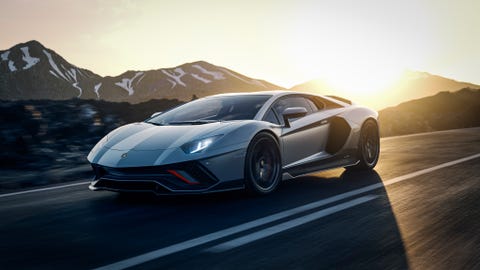 Engine & Performance
The Aventador's powertrain includes a centrally positioned 6.5-liter V-12 engine that produces an impressive 769 horsepower. This immense power is transferred to all four wheels through a seven-speed automated-manual transmission. While we haven't had the opportunity to try out the Ultimae version, we have had the exhilarating experience of the track-focused SVJ and its convertible variant. These models showcased extraordinary acceleration and intense cornering forces that left a lasting impact.
Price & Mileage
A limited production run of the Ultimae models will be available, consisting of 350 coupes and 250 roadsters sold worldwide. Despite its high price tag, we are drawn to the Roadster as it offers an exhilarating V-12 soundtrack that fully immerses us. The Lamborghini Aventador's pricing ranges from $507,353 for the Ultimae to $550,542 for the Ultimae Roadster. In terms of fuel efficiency, the Aventador falls into the category of the least economical cars on the market, with EPA ratings of 9 mpg for city driving and 16 mpg for highway driving.
Acceleration & Features
The powerful machines effortlessly maneuvered through the corners, thanks to their impressive grip and advanced four-wheel-steering systems, enabling them to change direction swiftly. Upon experiencing the Aventador S and Aventador S roadster, it became evident that the latter, with its top-down capability, offers a superior driving experience, allowing one to fully immerse in the captivating sound of the V-12 engine. However, Aventador's standard infotainment system appears outdated, featuring antiquated graphics and a cumbersome integration. Nonetheless, the company provides voice commands and Apple CarPlay compatibility, along with a performance data recorder that can save lap times and track data. For those interested, an upgraded audio system is available, featuring door-mounted subwoofers and dashboard tweeters.
Difference Between 2024 aston martin DB12 VS Lamborghini Aventador
| | | |
| --- | --- | --- |
| | Aston Martin DB12 | Lamborghini Aventador |
| Dimensions | 186 in x 84.4 in x 50.9 in | 191.7 in x 82.6 in x 44.7 in |
| Engine | twin-turbocharged V8 | naturally-aspirated V12 |
| Horsepower | 671 hp | 769 hp |
| Torque | 570 lb-ft | 531 lb-ft |
| 0-60 MPH | 3.5 sec | 2.7 sec |
| 0-100 MPH | NA | 5.9 sec |
| Top-Speed | 202 mph | 221 mph |
| Airbags | 4 Airbags | 6 Airbags |
Specs