2024 Audi SQ8 E-Tron vs Mercedes-Benz EQS SUV: Which is Better?
The 2024 SQ8 e-Tron packs a 496 hp electric punch, securing its spot among Audi's high-performance models. It inherits the comfort-focused Q8 e-tron's design in squareback and fastback styles, elevating luxury with a sporty flair. Fueled by a 106-kWh battery, its driving range competes but falls short of rivals like the BMW iX and Tesla Model X. Quick DC charging ensures convenience, offering around 240 miles of range. Loaded with Audi's top tech, including Virtual Cockpit, Wi-Fi-infused touchscreen, and comprehensive driver-assistance features, it promises a cutting-edge driving experience. For devoted Mercedes-Benz enthusiasts venturing into the electric realm, the 2023-introduced EQS SUV awaits. As the crossover counterpart to the EQS electric sedan, it shares a platform but caters to seven occupants with enhanced headroom. Various powertrains deliver up to 536 hp with R/AWD. The interior boasts opulent materials and advanced technology, highlighted by the standard 56-inch Hyperscreen.
| | | |
| --- | --- | --- |
| | Audi SQ8 e-Tron | Mercedes-Benz EQS SUV |
| Dimensions | 193.5 in x 77.8 in x 65.0–65.5 in | 201.8 x 77.1 x 67.6 in |
| Motor | Induction AC | Permanent-magnet AC |
| Horsepower | 496 hp | 536 hp |
| Torque | 718 lb-ft | 633 lb-ft |
| 0-60 MPH | 4.5 sec | 4.0 sec |
| 0-100 MPH | 12.5 sec | 9.7 sec |
| Top-Speed | 130 mph | 131 mph |
Specs
Audi SQ8 e-Tron
Motor & Performance
The SQ8 e-Tron, sharing its platform with the Q8 e-Tron, boasts a more potent three-motor electric powertrain delivering 496 hp. With two electric motors on the rear axle, the SQ8 e-Tron can replicate a torque-vectoring differential, directing more power to the outside rear wheel as needed for improved cornering. All SQ8 e-Tron models come equipped with a 106.0-kWh battery pack that supports a 170 kW DC fast-charging connection. This setup allows for an EPA-estimated driving range of up to 253 miles per charge, though opting for the larger 22-inch wheels reduces the range estimate to 218 miles.
Price & Mileage
Audi has provided pricing only for the entry-level Premium Plus models, which we consider the best value. The SQ8 e-Tron starts at $90,995 and goes up to $99,795 for the Prestige Sportback. The SQ8 e-Tron is EPA-rated for up to 72 MPGe in the city and 75 MPGe on the highway. While these numbers may seem high compared to gas-powered SUVs, there are electric alternatives that achieve even higher efficiency ratings.
Acceleration & Features
We estimate that the new SQ8 e-Tron will accelerate to 60 mph in about 4.5 seconds. The interior features a large 10.1-inch touchscreen display seamlessly integrated into the dashboard, complemented by a smaller 8.6-inch display connecting the dash to the center console. The lower display handles secondary controls like climate settings and drive modes. Standard features include Apple CarPlay and Android Auto, in-dash navigation, a wireless smartphone charging pad, a Bang & Olufsen stereo system, and an onboard Wi-Fi hotspot.
Mercedes-Benz EQS SUV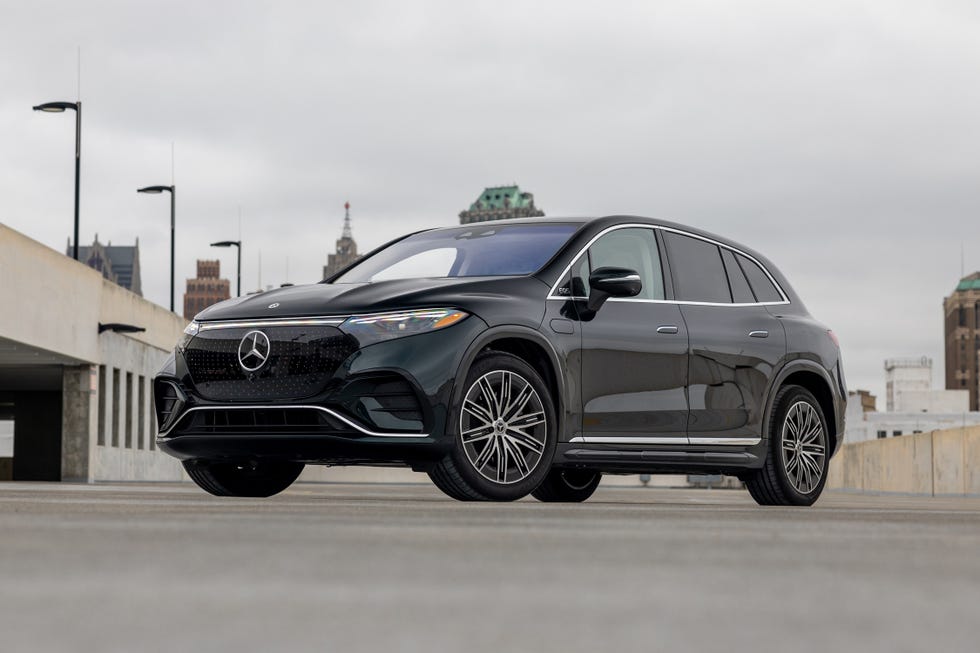 Motor & Performance
The EQS450+ is equipped with a 335-hp electric motor powering the rear wheels. On the other hand, the EQS580 boasts 536 hp and 633 lb-ft of torque from its front- and rear-mounted electric motors, delivering AWD. Standard features on the EQS SUV include an adjustable air suspension and a rear-axle steering system, providing surprising agility. Unlike the sedan, the SUV incorporates an Off-Road drive mode, raising the suspension and adjusting the powertrain's behavior. The entry-level EQS450+ claims a range of 305 miles per charge, while the AWD EQS450 4Matic and EQS580 4Matic offer around 285 miles of driving before needing a recharge. Fortunately, the EQS SUV supports charging speeds up to 200 kW, enabling the battery to go from 10 to 80 percent in just 31 minutes when connected to a compatible DC fast charger.
Price & Mileage
The entry price for the EQS SUV is surprisingly close to that of the EQS sedan. Beginning at $105,550 for the EQS450+ Premium, the pricing goes up to $134,000 for the EQS580 4Matic Pinnacle. EPA ratings for the EQS SUV lineup vary depending on the powertrain configuration. The EQS450+ is rated at 85 MPGe combined, dropping to 78 MPGe for the 4Matic AWD variant. The EQS580 is EPA-rated at 77 MPGe combined.
Acceleration & Features
Many have observed livelier acceleration from the EQS580, clocking an impressive 4.0-second sprint to 60 mph on a test track. The EQS450 4Matic tested didn't lag behind either, hitting 60 mph in 5.2 seconds during the same test. For a touch of spectacle, the EQS SUV can be equipped with Mercedes' captivating 56-inch Hyperscreen, spanning the dash from door to door. This Hyperscreen hosts the digital gauge cluster, a 17.7-inch touchscreen handling primary infotainment functions, and a 12.3-inch touchscreen in front of the passenger. Every EQS SUV comes standard with wireless Apple CarPlay and Android Auto, a Burmester audio system, and wireless device charging.