2024 Maserati GranTurismo vs Nissan GT-R: Which is Better?
The 2024 Maserati GranTurismo marks a stunning comeback with a blend of classic and modern design, joining the Maserati lineup alongside the MC20 sports car. Powered by a detuned version of the Nettuno twin-turbo V-6 engine from the MC20, the GranTurismo offers all-wheel drive and an eight-speed automatic transmission. An anticipated GranCabrio convertible variant might arrive in 2025. This model balances luxury amenities and sports car performance effectively. In contrast, the Nissan GT-R remains relatively unchanged from the R35-generation coupe that emerged 15 years ago, now featuring the T-Spec variant between Premium and NISMO models. The GT-R retains its iconic components, including e-adjustable Bilstein dampers and Brembo brakes, coupled with the same dual-clutch automatic transmission and all-wheel drive system for its signature acceleration. The enduring prowess of the GT-R continues to captivate buyers despite its aging design.
| | | |
| --- | --- | --- |
| | Maserati GranTurismo | Nissan GT-R |
| Dimensions | 195.2–195.5 in x 77.0 in x 53.3 in | 184.6 in x 74.6 in x 53.9 in |
| Engine | 3.0L twin-turbo V6 | 3.8L twin-turbo V6 |
| Horsepower | 542 hp | 565 hp |
| Torque | 479 lb-ft | 467 lb-ft |
| 0-60 MPH | 3.5–3.9 sec | 2.9 sec |
| 0-100 MPH | 8.2–8.6 sec | 6.9 sec |
| Top-Speed | 188–199 mph | 200 mph |
Specs
Maserati GranTurismo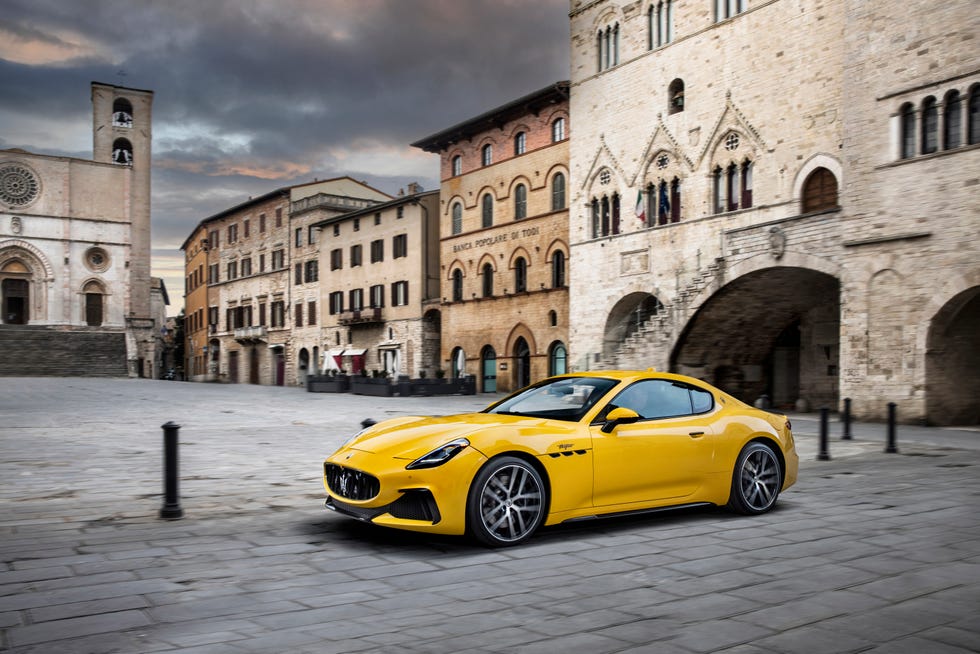 Engine & Performance
The GranTurismo has a slightly toned-down rendition of the MC20 sports car's twin-turbo V-6 engine. In the Modena trim, it generates 483 horsepower, while opting for the Trofeo elevates the power to 542 horses. Both variants excel in serene and pleasant cruising. The engine possesses a distinctive and melodious quality, and its unique dual-combustion design draws inspiration from Formula 1 racing. All gasoline-driven GranTurismo models are furnished with an eight-speed automatic transmission and all-wheel drive; however, a manual gearbox isn't available. When set to Comfort mode, the standard air suspension adeptly absorbs road imperfections, ensuring a gentle and steady journey.
Price & Mileage
The GranTurismo comes in two versions: the standard Modena trim and the more dynamic Trofeo trim, which we highly recommend. Opting for the Trofeo brings extra horsepower, distinctive forged wheels, an electronically-locking differential, and sportier exterior and interior designs. The starting price for the GranTurismo is $175,495. While specific fuel economy details will be disclosed closer to the release date, preliminary sources suggest that the car achieves around 20 mpg in urban settings and 27 mpg on highways.
Acceleration & Features
Activating launch control, the GranTurismo Modena, with its 483-hp power, achieves 0-60 mph in a claimed 3.7 seconds. Alternatively, the Trofeo model, boasting 542-hp, boasts a quicker claimed 3.5-second 0-60 mph time. The new GranTurismo also features Maserati's latest infotainment system, powered by Google and already seen in the Grecale. The dashboard hosts a 12.3-inch touchscreen along with a secondary 8.8-inch display for climate control. With the inclusion of wireless Apple CarPlay and Android Auto integration, connectivity is seamless.
Nissan GT-R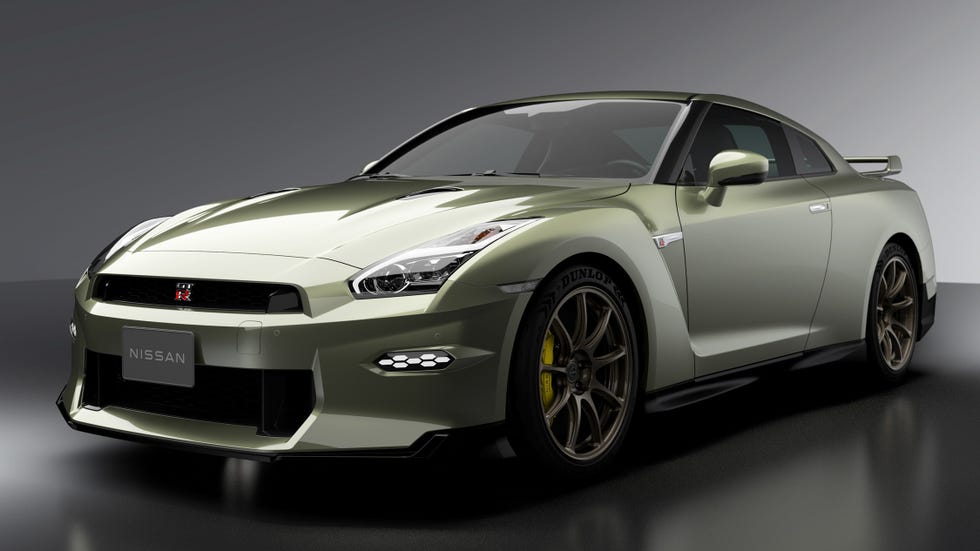 Engine & Performance
The GT-R boasts an impressive twin-turbo 3.8-liter V-6 engine as standard. Delivering a robust 565 horsepower and 467 pound-feet of torque. This power is harnessed through a six-speed automatic transmission and all-wheel drive system. Working in tandem to effectively transfer power to the road. With its swift steering, solid frame, and customizable suspension, even those less experienced behind the wheel can feel remarkably confident. The driving experience remains comfortably firm, striking a balance between responsiveness and comfort. Thanks to active sound cancellation, the GT-R's engine noise is thoughtfully controlled. Ensuring a pleasant journey on the highway without overwhelming your senses.
Price & Mileage
Astoundingly, Nissan commands a hefty sum for a vehicle that commanded a lower price tag a decade ago, with minimal alterations over time. Nevertheless, those in pursuit of continuous exhilaration behind the wheel of this powerful GT-R iteration likely prioritize experience over cost considerations. The GT-R's pricing commences at $122,825. According to EPA assessments, each GT-R is projected to achieve 16 mpg within urban environments and 22 mpg on highways.
Acceleration & Features
On the test track, the GT-R accelerated from zero to 60 mph in an astonishingly quick 2.9 seconds. The 2023 GT-R model features an 8-inch touchscreen that can be managed through a rotary knob on the central console. Standard features include Apple CarPlay compatibility, built-in navigation, and a high-quality Bose 11-speaker audio setup, although Android Auto is not available. The user-friendly infotainment system remains intuitive, despite its less appealing graphics and menus.