2024 McLaren 750S vs Maserati MC20: What To Choose?
McLaren's 720S bid farewell in 2022, leaving us a bit down, but it's back as a sleeker 740-hp version for the 2024 McLaren 750S. Shedding weight for extra speed. The familiar V8 and seven-speed dual-clutch remain. But upgrades like a lighter exhaust and nimble pistons from the 765LT enhance performance. This 750S isn't a total reboot but after its mechanical makeover. It's an impressive supercar, akin to flaunting a beach-ready body after winter workouts. On the other track, Maserati's MC20 signals a return to the brand's roots. Ditching the parts-bin trend, it boasts a carbon-fiber frame, a Maserati-crafted 621-hp twin-turbo V6, and a grippy chassis. With its Italian allure and butterfly doors, it turns heads like Ferraris and Lamborghinis. The MC20 Cielo Spyder adds open-air thrills.
| | | |
| --- | --- | --- |
| | 2024 McLaren 750S | Maserati MC20 |
| Dimensions | 179.9 in x 76.0 in x 47.1 in | 183.8 in x 77.4 in x 48.1 in |
| Engine | 4.0L twin-turbocharged V8 | 3.0L twin-turbocharged V6 |
| Horsepower | 740 hp | 621 hp |
| Torque | 590 lb-ft | 538 lb-ft  |
| 0-60 MPH | 2.5–2.6 sec | 3.2 sec |
| 0-100 MPH | 5.1–5.2 sec | 6.5 sec |
| Top-Speed | 206 mph | 202 mph |
Specs
McLaren 750S
Engine & Performance
In the 750S, there's a strong 740-hp twin-turbo V8 engine under the seats that loves sending 590 lb-ft torque to the rear wheels. It shifts gears with a seven-speed dual-clutch, similar to what's in the 765LT. Besides being really powerful, the 750S has lightweight wheels that McLaren claims are the lightest ever. It also has cool aero stuff that makes it stick to the road better than the 720S. Inspired by the million-dollar Senna, the 750S can slow down with fancy ceramic brakes. It comes with standard Pirelli P Zero summer tires, and you can choose the optional P Zero Corsa or the track-focused P Zero Trofeo R tires. The 750S has different-sized wheels, with 19-inch ones in the front and 20-inch ones in the back.
Price & Mileage
Choosing options for the 750S is really easy. The McLaren 750S starts at $329,500 for the Coupe and goes up to $350,500 for the Spider version. The EPA hasn't told us how much gas it uses yet, but we think it'll probably be similar to the 720S. The 720S, with its slightly less powerful twin-turbo 4.0L V8, got around 15 mpg in the city and 22 mpg on the highway which is pretty typical for a supercar.
Acceleration & Features
McLaren says the 750S can zoom to 60 mph in just 2.7 seconds, matching the craziness of the discontinued 720S. The 7.0-inch tall infotainment screen controls things like climate, Apple CarPlay, and setting up ambient lighting. A standard 360-degree rearview camera has a better resolution than the one in the 720S, making things clearer. If, for some reason, you want to drown out the P1-inspired exhaust note. There's a Bowers & Wilkins audio system with an amplifier and McLaren's Continuum cone speakers to handle your music needs.
Maserati MC20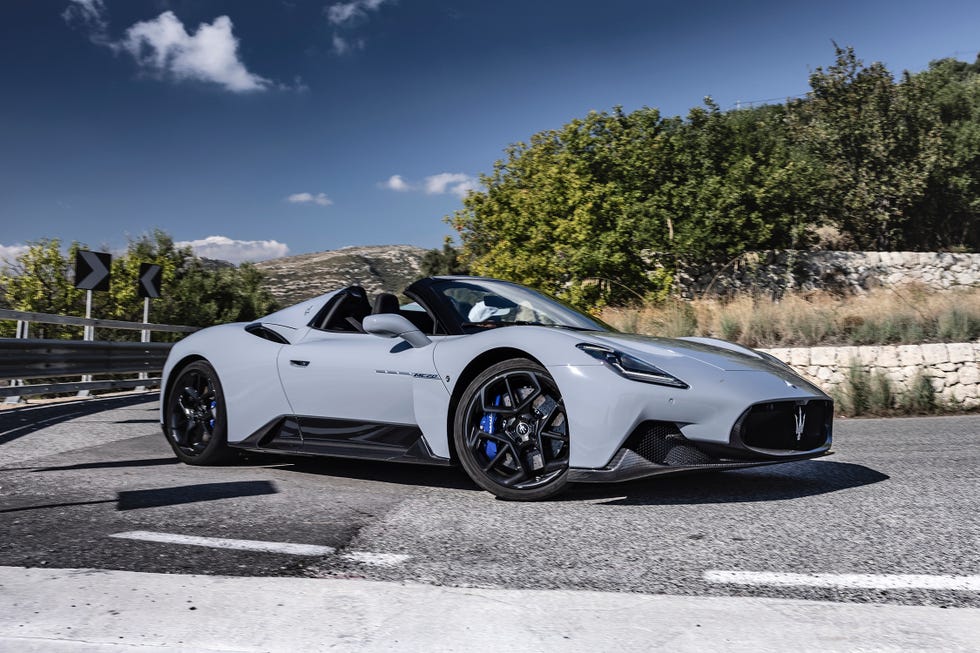 Engine & Performance
The MC20 Coupé and Cielo derive their power from a twin-turbocharged 3.0L V6, delivering a robust 621 hp and 538 lb-ft of torque. Named "Nettuno," this engine marks a departure from previous practices. It's a purpose-built design crafted in Modena by Maserati, moving away from adapting engines from corporate siblings. With a distinctive twin-combustion system inspired by F1 race cars. The 90-degree V6 engine is exclusively mated to an eight-speed automatic transmission. Maserati asserts an impressive 207.6 hp per liter. A metric placing it in the same league as other top-tier supercar manufacturers such as Lamborghini, Ferrari, McLaren, and Porsche.
Price & Mileage
Regardless of your choice, it's important to recognize that these are starting prices in the exotic car category. The MC20 kicks off at $217,000 for the Coupe and climbs to $250,000 for the Cielo. In the world of high-powered exotics and sports cars, fuel economy tends to take a back seat, and the MC20 follows the same. With EPA ratings of 15 mpg in the city and 25 mpg on the highway, it's somewhat more sensible compared to some other supercar contenders.
Acceleration & Features
The MC20 achieves a swift 60 mph in just 3.2 seconds and covers the quarter-mile in 11.0 seconds, hitting a top speed of 131 mph. Beyond its rapid acceleration, the MC20 boasts race-car sharp handling. While most of Maserati's current lineup adopts a reskinned version of Fiat Chrysler's Uconnect infotainment system, the MC20 introduces the brand's new MIA multimedia system, powered by Google's Android Automotive operating system. The fresh interface is displayed on a 10.3-inch horizontally oriented touchscreen nestled under the air vents in the center of the dashboard, complemented by a second 10.3-inch display serving as the gauge cluster.