2024 McLaren 750S vs Lamborghini Huracan: Which is Better?
McLaren's discontinuation of the 710-hp 720S in 2022 disappointed us. However, we're thrilled to witness its rebirth as a sleeker and more potent 740-hp version in the 2024 McLaren 750S, available in coupe and spider styles. It retains the familiar twin-turbo 4.0L V8 and seven-speed dual-clutch transmission. McLaren's weight-loss efforts, incorporating a lighter center-exit exhaust, nimble wheels, and high-performance pistons from the 765LT, enhance its speed. In contrast, Lamborghini epitomizes boldness and powerful performance with the V10-powered Huracán. With over 600+ hp and exhilarating acceleration, it seamlessly transitions from road to track, offering razor-sharp handling expected from a six-figure sports car. The Huracán lineup, including the off-road-ready Sterrato, exudes an unmatched outrageous charm that sets it apart from competitors like Ferrari and McLaren.
| | | |
| --- | --- | --- |
| | 2024 McLaren 750S | Lamborghini Huracan |
| Dimensions | 179.9 in x 76.0 in x 47.1 in | 178.0 in x 76.1 in x 45.9 in |
| Engine | 4.0L twin-turbocharged V8 | 5.2L NA V10 |
| Horsepower | 740 hp | 631 hp |
| Torque | 590 lb-ft | 443 lb-ft |
| 0-60 MPH | 2.5–2.6 sec | 2.5 sec |
| 0-100 MPH | 5.1–5.2 sec | 5.7 sec |
| Top-Speed | 206 mph | 193 mph |
Specs
McLaren 750S
Engine & Performance
In the 750S, there's a strong 740-hp twin-turbo V8 engine under the seats that loves sending 590 lb-ft torque to the rear wheels. It shifts gears with a seven-speed dual-clutch, similar to what's in the 765LT. Besides being really powerful, the 750S has lightweight wheels that McLaren claims are the lightest ever. It also has cool aero stuff that makes it stick to the road better than the 720S. Inspired by the million-dollar Senna, the 750S can slow down with fancy ceramic brakes. It comes with standard Pirelli P Zero summer tires, and you can choose the optional P Zero Corsa or the track-focused P Zero Trofeo R tires. The 750S has different-sized wheels, with 19-inch ones in the front and 20-inch ones in the back.
Price & Mileage
Choosing options for the 750S is really easy. The McLaren 750S starts at $329,500 for the Coupe and goes up to $350,500 for the Spider version. The EPA hasn't told us how much gas it uses yet, but we think it'll probably be similar to the 720S. The 720S, with its slightly less powerful twin-turbo 4.0L V8, got around 15 mpg in the city and 22 mpg on the highway which is pretty typical for a supercar.
Acceleration & Features
McLaren says the 750S can zoom to 60 mph in just 2.7 seconds, matching the craziness of the discontinued 720S. The 7.0-inch tall infotainment screen controls things like climate, Apple CarPlay, and setting up ambient lighting. A standard 360-degree rearview camera has a better resolution than the one in the 720S, making things clearer. If, for some reason, you want to drown out the P1-inspired exhaust note. There's a Bowers & Wilkins audio system with an amplifier and McLaren's Continuum cone speakers to handle your music needs.
Lamborghini Huracan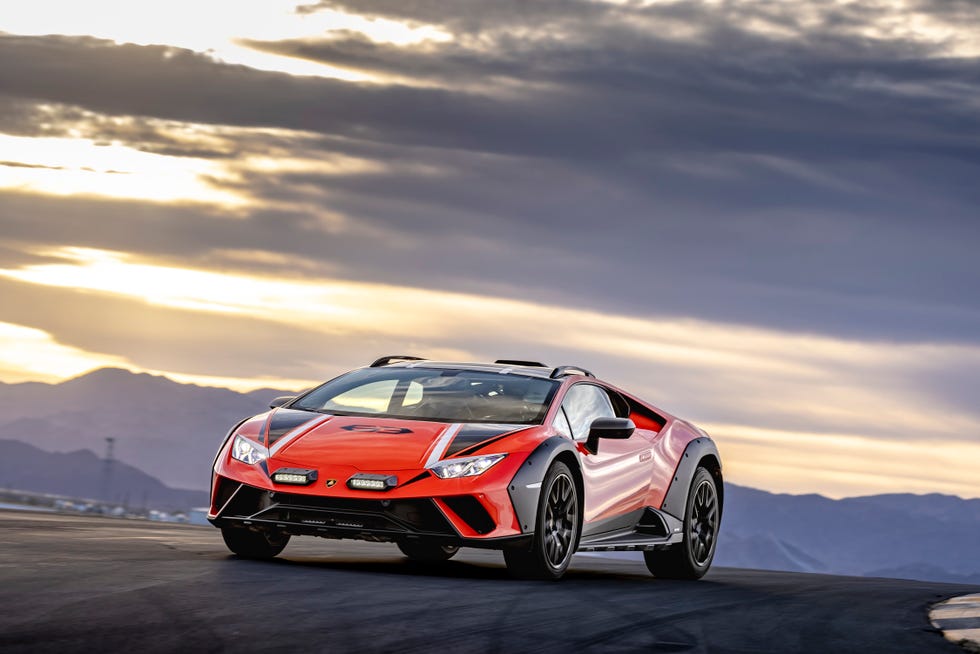 Engine & Performance
Behind the Huracán's cabin rests a dry-sumped 5.2L V10. Emitting a devilishly captivating sound as it accelerates toward its 8500-rpm redline. This engine produces 631 hp in all models, except the robust Sterrato variant. Which boasts a formidable 602 hp version of the V10. Each Huracán V10 is coupled with a seven-speed dual-clutch automatic. Seamlessly shifting gears either automatically or under the driver's command through paddle shifters. The latest Huracán models now feature rear-wheel steering as a standard, enhancing agility. Additionally, a predictive system, known as LDVI, dynamically adjusts to driver inputs on the go.
Price & Mileage
Based on our encounters with the Italian supercar, we would lean towards the rear-drive Huracán Tecnica as our preferred model. The Huracán lineup begins at $249,865 for the Tecnica and reaches up to $344,778 for the STO. According to the EPA, the Huracán achieves a fuel efficiency rating of 13 mpg in the city and 18 mpg on the highway, resulting in a combined rating of 15 mpg.
Acceleration & Features
The tested AWD Evo coupe accelerated from 0-60 mph in an impressive 2.5 seconds and covered the quarter-mile in 10.4 seconds at a speed of 135 mph. In the realm of six-figure supercars, infotainment features are often not the most fixed-aspect. Nevertheless, Lamborghini equips the Huracán with an 8.4-inch touchscreen overseeing functions like the audio system, climate settings, and multimedia content. Despite the usual focus on driving experience, the Lambo comes with Apple CarPlay capability and Amazon Alexa integration, offering voice-control technology to theoretically minimize distractions while driving.