2024 Toyota Land Cruiser vs Audi Q7: Which is Better?
Surprise! The Land Cruiser is making a comeback, now smaller to compete with mainstream off-roaders like the Ford Bronco and Jeep Wrangler, while the full-size SUV market is left to the Toyota Sequoia. With seating for five and modern infotainment, it serves both as a weekend toy and a weekday commuter. The new Land Cruiser shares a platform with the Lexus GX and boasts an advanced driver-assistance system. It will hit dealerships in spring 2024. Audi's Q7, a family SUV, offers a three-row package with a sports sedan-like driving experience, especially with adaptive air suspension and rear-wheel steering. Both powerplants come with all-wheel drive and an eight-speed automatic, but the V-6 is capable of towing up to 7000 pounds. The interior is premium and spacious for passengers, equipped with numerous infotainment features.
| | | |
| --- | --- | --- |
| | 2024 Toyota Land Cruiser | Audi Q7 |
| Dimensions | 193.7 in x 78.0 in x 73.2 in | 199.3 in x 77.6 in x 68.5 in |
| Engine | Hybrid turbocharged 2.4L 4-pot | 3.0L turbocharged V6 |
| Horsepower | 381 hp | 335 hp |
| Torque | 401 lb-ft | 369 lb-ft |
| 0-60 MPH | NA | 5.0 sec |
| 0-100 MPH | NA | 13.5 sec |
| Top-Speed | NA | 130 mph |
Specs
Toyota Land Cruiser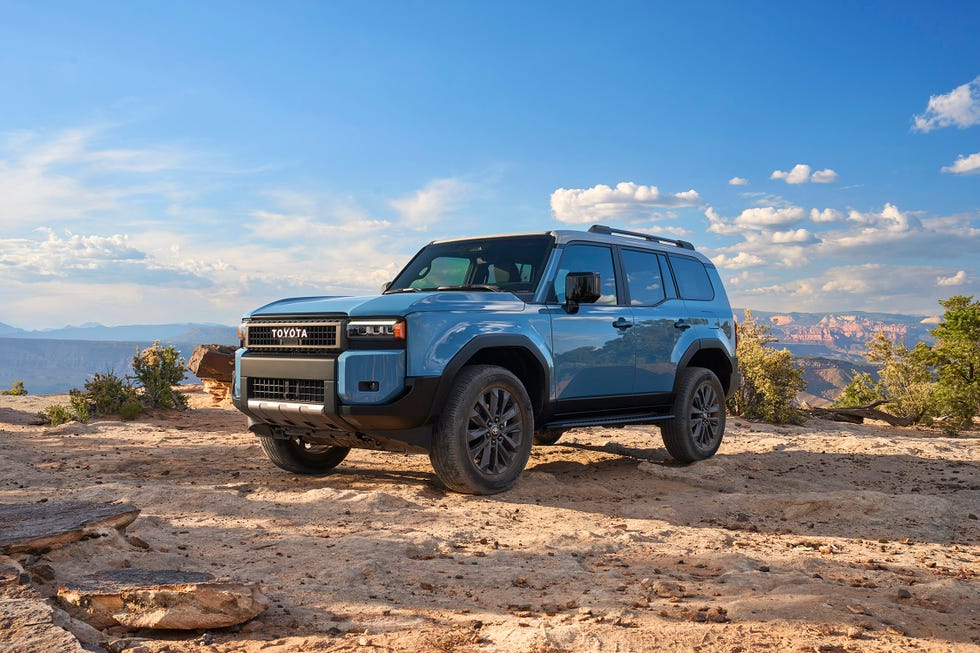 Engine & Performance
The 2024 Land Cruisers are in for an impressive upgrade that brings cutting-edge technology to all models. Get ready to experience the innovative 2.4-liter turbocharged four-cylinder hybrid iForce Max powertrain paired with an eight-speed transmission. This remarkable technology, already proven successful in the top-tier Tacoma TRD Pro, ensures a thrilling driving experience. Despite having slightly lower horsepower at 326 combined, the new powertrain shines with a robust combined torque of 465 pound-feet, surpassing the previous 5.7-liter V-8's 401 pound-feet. Off-road conditions are where it truly excels, boasting peak torque at just 1700 rpm, a remarkable improvement over the previous 3600 rpm. Prepare to embrace enhanced capabilities, especially when venturing off the beaten path – a remarkable advantage offered by the iForce Max powertrain.
Price & Mileage
In a delightful turn of events, Toyota has pleasantly surprised us with a much more attractive starting price in the mid-$50,000 range for the Land Cruiser's latest appearance in the U.S. market. Gone are the days of the hefty $87,030 price tag. The smaller frame and cozy five-seat cabin enhance its appeal, making it even more charming. Although fuel economy estimates are yet to be released, we hold an optimistic outlook, expecting significant improvements compared to the disappointing 14 mpg combined of the 2021 model. With the introduction of the reformulated hybrid Cruiser, it is likely to outperform the larger LX600, which only managed 19 mpg combined. This exciting change breathes new life into the Land Cruiser, making it a more budget-friendly and eco-conscious choice for potential buyers.
Acceleration & Features
The Land Cruiser now comes with an integrated tow hitch as a standard feature, offering a respectable towing capacity of 6000 pounds, albeit reduced compared to its predecessor. The current version accommodates up to five passengers only due to the hybrid system's battery taking up space that could have been used for a third row, resulting in a slightly higher load floor. On the bright side, all Land Cruisers come equipped with Toyota's excellent infotainment system, providing wireless Apple CarPlay and Android Auto. While the base 1958 trim features a modest 8.0-inch display, the other trims boast a much larger 12.3-inch touchscreen, enhancing the overall experience.
Audi Q7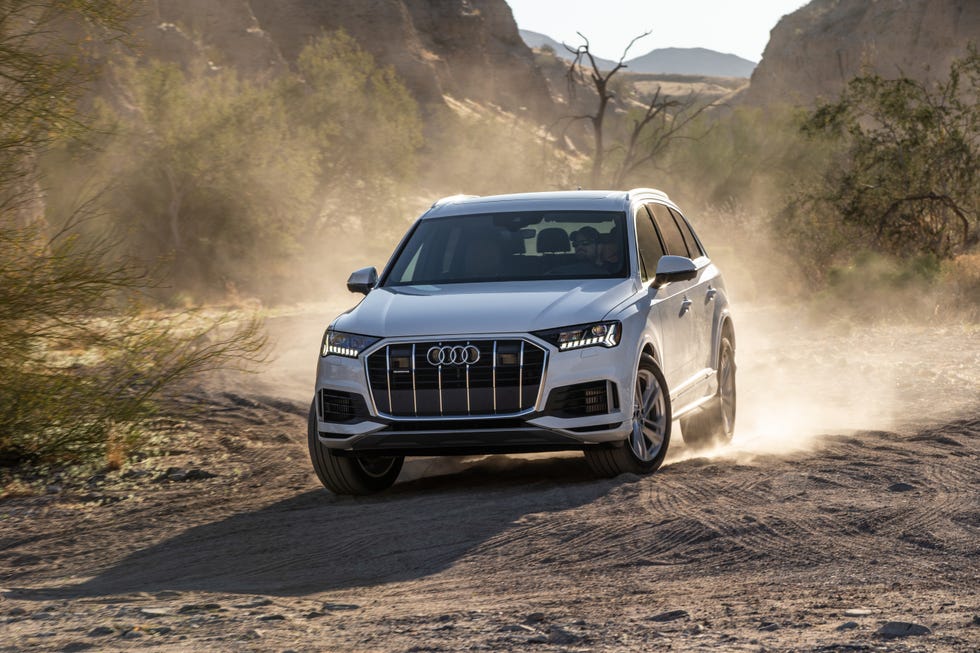 Engine & Performance
The base model of the Q7 comes with a 261-hp turbocharged four-cylinder and a 12-volt hybrid system, providing ample satisfaction for most drivers. However, for those who crave more power, there's the option of a turbocharged 3.0-liter V-6 with a 48-volt hybrid system, producing an impressive 335 horsepower. Surprisingly, despite its size, when equipped with performance tires on 21-inch wheels, the Q7 feels remarkably nimble and sporty, akin to an energized sport wagon. The optional air suspension adds a customizable element to the ride, complemented by the agility of four-wheel steering, making the Q7 a delight to push through winding roads. Moreover, it ensures a smooth and comfortable ride overall.
Price & Mileage
In our opinion, the 45's turbo-four powertrain proves to be more than ample, and we highly recommend matching it with the Premium Plus trim level. The Q7's starting price stands at $60,695. For the V-6 powered version, the EPA fuel-efficiency ratings reach 17 mpg city, 21 mpg highway, and 18 mpg combined. On the other hand, the turbo four-cylinder model offers even better efficiency, with ratings of 19 mpg city and 25 mpg highway.
Acceleration & Features
During our evaluation of the Q7 with the turbo V-6, it impressed us with its brisk 5.0-second time to reach 60 mph, even surpassing the mechanically similar two-row Q8 SUV. Audi equips the Q7 with a standard 10.1-inch infotainment touchscreen, accompanied by a smaller 8.6-inch screen below for climate and vehicle settings control. Whether you find this system delightful or devilish depends on your preference for using touchscreens while driving. Audi has integrated this new infotainment system throughout its lineup, including the A6, A7, and A8 sedans, as well as the Q8 SUV.