2025 Toyota Crown Signia vs Chevrolet Blazer: Which is Better?
Toyota is rolling out the 2025 Toyota Crown Signia, a new SUV taking over from the Venza. Packed with a hybrid engine boasting 243 hp and standard AWD. It positions itself as a more upscale option, challenging mainstream models like the Honda Passport, Hyundai Santa Fe, and Nissan Murano. Meanwhile, the Chevrolet Blazer stands out in the mid-size SUV segment, balancing style with practicality. While its higher trims can get a bit pricey, the Blazer offers a roomy interior, optional features, and a choice between a turbocharged four-cylinder and a potent V6 engine.
| | | |
| --- | --- | --- |
| | 2025 Toyota Crown Signia | Chevrolet Blazer |
| Dimensions | NA | 191.8 in x 76.7 in x 67.0 in |
| Engine | 2.5L inline-4 | 3.6L V6 |
| Horsepower | 243 hp | 308 hp |
| Torque | NA | 270 hp |
| 0-60 MPH | NA | 6.6 sec |
| 0-100 MPH | NA | 18.4 sec |
| Top-Speed | NA | 130 mph |
Specs
Toyota Crown Signia
Engine & Performance
The Crown Signia is equipped with an AWD hybrid powertrain. Combining a 2.5L naturally aspirated four-cylinder gasoline engine with three electric motors. This setup delivers a total of 243 hp, and it comes with a standard continuously variable automatic transmission.
Price & Mileage
The Crown Signia will be available in XLE and Limited trims, and we're estimating a starting price of $45,000 for the SUV version. Assuming it will be pricier than the Crown sedan. While neither Toyota nor the EPA has provided fuel-economy estimates yet. We anticipate it to approach around 40 mpg in combined driving. Regardless of the final figures, it's expected to outshine nonhybrid options in the mid-size SUV segment in terms of fuel efficiency.
Acceleration & Features
As of now, there hasn't been an opportunity to drive or test the Crown Signia. So its acceleration performance remains uncertain. However, we anticipate it will perform similarly to the Crown sedan's base 236-hp AWD hybrid setup. Which achieved a 0-60 mph time of 7.2 seconds in testing. On the tech front, a 12.3-inch touchscreen and a 12.3-inch digital gauge cluster are standard across all trims. The central touchscreen features wireless Apple CarPlay and Android Auto. Along with various connectivity features such as Wi-Fi, over-the-air updates, and a voice assistant.
Chevrolet Blazer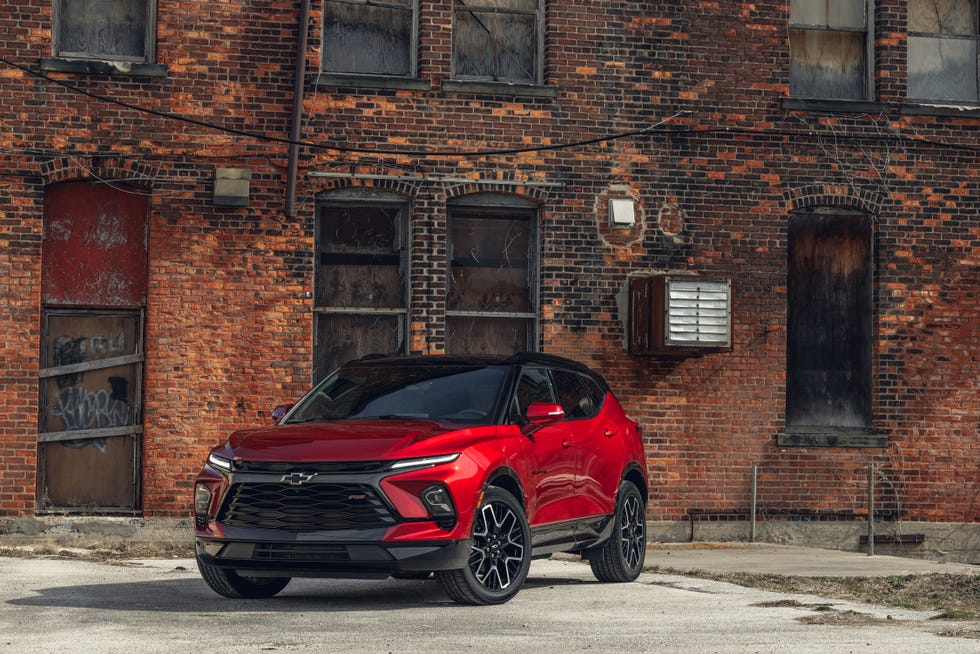 Engine & Performance
The Blazer comes with a standard 228-hp turbocharged 2.0L four-cylinder engine and an optional 308-hp 3.6L V6. Both engines are paired with a nine-speed automatic transmission and are available with either FWD or AWD. The turbo-four in the FWD version is powerful enough for city and highway driving. While the V6 offers remarkable acceleration and confidence during highway passing. The four-cylinder model can tow up to 1500 pounds. While the V6 version has a towing capacity of up to 4500 pounds.
Price & Mileage
For optimal performance, we suggest going for the 3LT trim level as it allows access to the V6 engine option, boosting the maximum towing capacity from 3500 to 4500 pounds. If you're interested in an AWD, it's available for an additional $2700. The Blazer's price range starts at $36,795 and goes up to $44,195. The standard turbo four achieves ratings of up to 22 mpg city and 29 highway, while the V6 version is slightly less fuel-efficient, with estimates of up to 20 mpg city and 27 highway.
Acceleration & Features
The tested Blazer RS accelerated to 60 mph in 6.6 seconds, showcasing notable performance for passing maneuvers, particularly useful for merging onto busy highways or overtaking slower traffic. The responsive brake pedal brought the Blazer RS to a stop from 70 mph in an impressive 165 feet. Each Blazer is equipped with a 10.2-inch touchscreen featuring Apple CarPlay and Android Auto capabilities, along with wireless charging for compatible phones. While the system's interface is attractive and user-friendly, a rotary controller could help minimize distractions.