Fisker Pear Specifications & Features
To complement the Ocean SUV, Fisker has introduced the 2026 Fisker Pear, a smaller SUV. While the name might not evoke thoughts of the delicious fruit, it actually stands for Personal Electric Automotive Revolution. Despite this, the appealing design and competitive base price of the Pear still catch our attention. Drawing inspiration from the stylish Ocean, the 2026 Pear is poised to offer a respectable driving range. Although specific information about the Pear is limited. Fisker has disclosed plans to manufacture it in Ohio through a collaboration with electronics giant Foxconn. Interested customers can reserve the Pear now, and Fisker anticipates commencing deliveries of the SUV in 2025. With pricing beginning at around $30,000.
What's New?
The Pear marks a fresh chapter for the emerging Fisker brand, introducing a completely new identity. Despite its enticingly affordable entry point, Fisker has ingeniously woven inventive elements and stylish aesthetics into the compact SUV. Anticipated to become available around mid-2025 as a 2026 model, the Pear embodies a blend of innovation and chic design.
Fisker Pear Details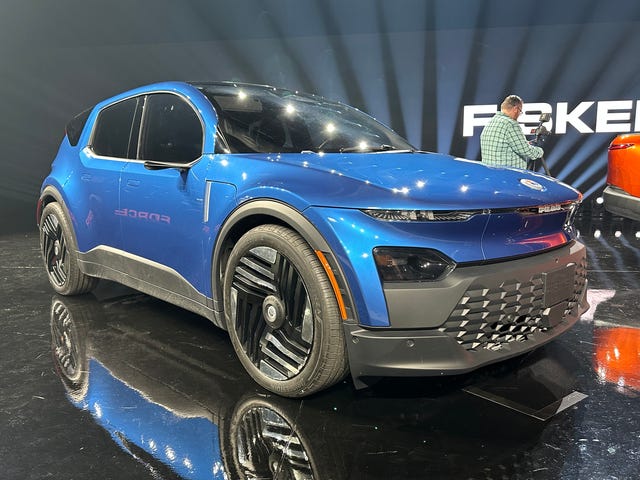 Deviating from the Ocean EV SUV's FM29 platform, which is also set to underlie the upcoming Alaska EV pickup. The Pear model is constructed on Fisker's innovative Simple Light Volume Platform, as shared by the CEO. The Pear, a software-driven creation, will skillfully manage its intricate array of technologies through the internal development of a bespoke "supercomputer" known as the Fisker Blade. This groundbreaking computing system is masterminded by Burkhard Huhnke, the company's Chief Technology Officer. As a result, the Pear will be primed for swift over-the-air updates, addressing glitches promptly and enhancing its systems. Boasting a substantial performance capability of 6.2 teraflops, the supercomputer stands its ground against rivals, reflecting Fisker's commitment to technological excellence.
Fisker Pear Interior
Despite its compact size, the Pear will accommodate six passengers through an available front bench seat option. While aiming for affordability, the Pear is anticipated to come with a simplified set of features; however, contemporary infotainment and a touch of flair are still on the table. While the interior of the Pear has been briefly glimpsed, elements such as cloth upholstery and vivid blue dashboard highlights caught our attention. Fisker has also integrated a convenient front trunk with a drawer-like design and a rear cargo door that retracts automatically into the Pear's overall design.
Fisker Pear Pricing
| | |
| --- | --- |
| 2026 Fisker Pear Trims | Price (USD) |
| Sport | $30,000 (est) |
| Ultra | $33,000 (est) |
| Extreme | $37,000 (est) |
| One | $40,000 (est) |
Pear Price
Fisker has yet to disclose the available trim options for the Pear or their respective prices. However, it's been indicated that the starting tier will likely begin at approximately $30,000 before federal tax incentives. The Pear is likely to follow a similar structure to the larger Ocean SUV, possibly including Sport, Ultra, and Extreme trims, each progressively equipped with more features and extended range. It's possible that similar to the Ocean, a special edition One trim might also be introduced at launch, showcasing distinct features or aesthetics.