2024 Chevrolet Corvette E-Ray vs Lucid Air: Which is Better?
In 2024, the Chevrolet Corvette E-Ray takes on elite sports cars like Ferrari and Lamborghini, embracing its American roots with a hybrid powertrain that combines a front electric motor and a rear 6.2-liter V-8. Yielding 655 horsepower. This all-wheel-drive powerhouse, only 15 horsepower shy of the Z06, boasts a stealth mode for quiet, electric-only neighborhood cruising. Despite its two-seat configuration, the E-Ray balances thrill with practicality, offering cargo space both behind the engine and under the front hood. On a different road, the Lucid Air showcases remarkable engineering. Achieving a 0-60 mph time of under 2.0 seconds and a 400-mile range. Its cutting-edge tech, unique battery design, and potent electric motors, are born from Formula E expertise. Sets it apart even from high-end competitors like the Porsche Taycan and Tesla Model S.
| | | |
| --- | --- | --- |
| | Chevrolet Corvette E-Ray | Lucid Air |
| Dimensions | 184.6 in x 79.7 in x 48.6 in | 195.9 in x 76.2 in x 55.4 in |
| Engine/Motor | 6.2L pushrod V8 + AC motor | permanent magnet sync AC motors |
| Horsepower | 655 hp | 819 hp |
| Torque | 470 lb-ft | 885 lb-ft |
| 0-60 MPH | 2.5 sec | 3.0 sec |
| 0-100 MPH | 6.0 sec | 6.0 sec |
| Top-Speed | 183 mph | 173 mph |
Specs
Chevrolet Corvette E-Ray
Engine, Motor & Performance
Introducing Corvette's groundbreaking hybrid powertrain, featuring a 6.2-liter V-8 from the Corvette Stingray generating 495 horsepower. Propelling the rear wheels through an eight-speed dual-clutch automatic transmission. Complementing this, a 160-hp electric motor on the front axle creates a formidable all-wheel-drive configuration, boasting a combined 655 horsepower. The Corvette E-Ray flaunts a modest 1.1 kWh battery, enabling silent electric cruising at speeds up to 45 mph in what Chevy aptly terms "stealth mode." Chevrolet emphasizes the year-round benefits of all-wheel drive. Accentuated by the inclusion of high-performance all-season tires as standard on the E-Ray. This hybrid marvel seamlessly marries American muscle with electric ingenuity, promising an exhilarating drive in any season.
Price & Mileage
Just like its conventional counterpart, the Corvette E-Ray comes in both coupe and convertible options, featuring a retractable hardtop for the latter. Opting for the coupe is a smart move since its targa roof easily lifts off, providing an open-top driving experience. The E-Ray offers three trim levels—1LZ, 2LZ, and 3LZ—equivalent to the standard Corvette Stingray's 1LT, 2LT, and 3LT versions. Starting at $106,595, the E-Ray mirrors the standard Stingray in terms of equipment. While the EPA hasn't unveiled fuel economy estimates yet. Chevrolet anticipates the hybrid's combined rating to align with the standard Stingray's 19-mpg figure. This ensures a seamless transition for Corvette enthusiasts into the electrified realm.
Acceleration & Features
Zooming down the test track. The Corvette E-Ray blazes to 60 mph in a mere 2.5 seconds when both its electric motor and V-8 are in full swing. This outpaces the rear-drive 670-hp Corvette Z06 coupe, clocking in at 2.6 seconds in the same trial. Making every ride a tech-savvy joy, the E-Ray incorporates Chevrolet's Infotainment 3 Plus system. Boasting an 8.0-inch touchscreen, it's equipped with Bluetooth audio streaming, a 4G LTE mobile hotspot, and seamless wireless compatibility with both Apple CarPlay and Android Auto. User-friendly and responsive, this system ensures a swift and enjoyable command experience for the driver.
Lucid Air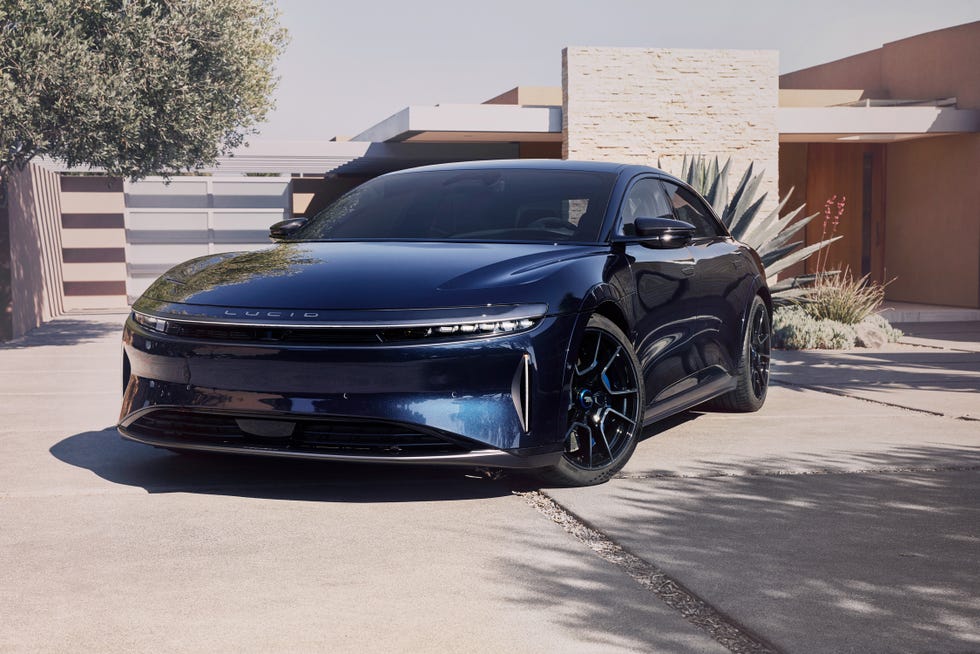 Motor & Performance
In the realm of Lucid Air models, starting with the Air Pure and its 430 horsepower from a single rear-wheel-driving electric motor. We journey to more robust options. Transitioning into all-wheel-drive territory, the Touring model impresses with 620 horses, while the Grand Touring takes it up a notch at 1050. Now, basking in the spotlight is the pinnacle—the Lucid Air Sapphire. A juggernaut boasting 1234 horsepower harnessed by three electric motors. Acceleration challenges the Tesla Model S Plaid, with a bonus rear motor for that extra kick. Not just about speed, Lucid claims a 200 mph top speed. EPA estimates crown the Air with the longest electric vehicle range available. For the Grand Touring variants, a substantial 112.0-kWh battery and DC fast-charging feature. While the Pure and Touring trims opt for a slightly smaller 92-kWh version.
Pricing & Mileage
Opting for the Touring model is our top choice here, and the reasons are compelling. Not only does it present a slew of appealing features, but it also comes with a notably lower price tag compared to the Grand Touring trim. With 20-inch wheels, leather upholstery, in-dash navigation, and an impressive estimated driving range of 425 miles per charge. The Touring model stands out. Commencing at a reasonable $78,900, the Lucid Air ensures cost-effectiveness without compromising on quality. Furthermore, the most fuel-efficient Air boasts an impressive 131 MPGe combined rating. While the Performance version maintains a commendable 111 MPGe combined rating. Choosing the Touring model is a savvy decision, aligning affordability with an array of attractive features that enhance your driving experience.
Acceleration & Features
During our assessment of the Grand Touring and Grand Touring Performance trims, the former impressively achieved a rapid 3.0-second 60-mph time, easily replicable with the car's launch mode. The Touring model, despite its lower price and power, matched this acceleration feat at 3.0 seconds, while the Pure variant accomplished it in 3.5 seconds. Notably, the power disparity of the Pure and Touring models becomes more apparent on the journey to 130 mph. The Touring took 12.0 seconds for this, contrasting with the Grand Touring's quicker 10.3 seconds. Transitioning to features, the Air boasts a sophisticated infotainment system integrating a spacious upper touchscreen seamlessly flowing from the digital gauge cluster, complemented by a tablet-like lower touchscreen handling extra functions and retractable into the dashboard. Lucid emphasizes the system's advanced voice-recognition software designed to respond to natural speech patterns.